Saturday March 22, 2008
Swimming Through the Colosseum and the Forum
Today is our day to tour the Coliseum and the Forum with Francesca and we need to be there by 9:00 AM. We wake up late to pouring rain and not enough time to make breakfast. At 7:45 I get a call on my cell phone. It's Francesca, saying the weather is bad and if we want, we can "wiggle out" of the tour. "Nope", I tell her, "we're all in."
I get out the bus map I printed before leaving home (you can get a PDF here) and see that we can take a bus from about a block away straight to the Coliseum. Once again, a bus appears right as we walk up. We get there and of course we're very early. Another check of the map and it looks like the church of San Pietro in Vinculo is nearby so we're off and walking, looking for it. We find a church, but it's closed and I don't know if it's the right one or not. Instead, we head off to find a bar for coffee. Because it's raining, it's very crowded, but we manage to snag a tiny table and get coffee and pastries. We finish with enough time to spare to walk back to the Colosseum Metro where we are supposed to meet Francesca.
She is there at the appointed time; a very perky, petite blond with bright blue eyes. We learn that Francesca's mother is American and her father is Sicilian. She was raised in Rome and speaks both English and Italian fluently. Rick Steves recommends her in his guidebooks and she often leads his tours locally when they are in Rome. She can be reached at this email address: chris.fra@mclink.it At the time of our tour, her rate was 45 euro per hour.
We start off in front of the Colosseum in the middle of a downpour. Francesca is very passionate about Roman history and asks us to set aside our preconceptions and imagine Rome in the way she presents it. The security line outside the Coliseum is enormous, filled with busloads of people on tours. Somehow she angles us into a shorter line and we get through quickly to the ticket area where she purchases our tickets with our RomaPasses for a discount (6.50 euro).
Inside, Francesca explains to us the history of the Colosseum and debunks some of the myths (no, there were no mock naval battles fought here and gladiators only fought each other, never animals). She tells us that the emperors would let the public in for free to show their largess and to promote their conquests in far off lands by showing captured slaves, exotic animals, and recreating battle scenes. The wealthy had the equivalent of "season tickets" with their names engraved on the marble seats in the best location (the "50 yard line"). Because it's raining so hard, I have to put my camera away and end up with very few photos and none at all of the iconic exterior. This just means I have to go back someday in better weather!

Photo by Tris
After the Colosseum, we head over to the Forum, stopping first at the Arch of Constantine where Francesca explains the different styles of sculpture on the Arch. Oddly enough, the more refined carvings come from a much earlier era. There used to be an entrance to the Forum near the Colosseum, but it is now closed because the Forum is no longer free to the public. Entrance now requires admission, combined with the same ticket as the Colosseum. She told us the reasoning was not to make more money, but to keep out the rampant pickpockets and help control vandalism. We entered at the Largo Romolo and Remo entrance and then walked up to the Arch of Titus to begin.
As we walk through the rest of the Forum it continues to pour rain on us. At one point, we stop at the place Caesar was cremated. There is a couple there, taking photos of each other. The man puts his camera on a mini-tripod and sets it on a stone which is part of the entrance to the cremation area. Francesca is appalled. The couple is speaking Spanish, so David tells the guy (in Spanish) he should not be setting his tripod on the 2000 year old ruins. The guy feigns ignorance. David presses on a bit and the guy blows us off. Francesca is clearly irritated, but we move on, choosing to pick a different battle. Francesca tells us stories of bad tourist behavior, one of which included a drunk tourist urinating on the ruins (another reason it is now not open to the public).
We pass by the newly opened temple of Romulus, and indeed the doors are open, but it is roped off. There are people inside, but Francesca tells us they won't let us in and it's probably only open today for VIPs. It has an original bronze door which still works. I'd read it was now open to the public, but I have not idea how one goes about getting in.
We check out the other ruins, including the temple of Antonius, the Basilica of Constantine and the Curia building. Suddenly, it's been 3 hours. Francesca asks if we want to go anywhere else and we are all done for the time being; cold and wet and hungry. Francesca tries to tell us she only wants to charge us for two hours since we didn't make it to the Pantheon, but we won't hear that (she was with us for three, why would we pay for two?).
After leaving the forum, we peer at the ruins of Trajan's forum and ponder what to do next. There is just so much to see here it's overwhelming and I wish we had time (and weather) for the Palatine and the Capitoline Museums. I now completely understand why people come back year after year. But right now we're hungry and wet and decide to go back to the apartment to change and find lunch. We have a bit of difficulty finding the right bus and have to wait a while. Once we get on it's packed and we end up getting off a couple of stops too early, but it's nice to walk and not raining for the moment.
Lunch at Boccon Divino
Once we change into dry clothes, we decide to go to a little trattoria around the corner from the apratment. We'd passed by it yesterday, on a little street between our piazza and the grocery store called Via del Pavone. It's so small, it's not even on my map. We'd seen a sign saying "Osteria Romana" and it looked a little touristy, but it looked ok once we'd walked down to check it out. So, today, we're hungry and think it's best not to go too far. We get there around 1PM and it's empty save for one other large family. The proprietress gives us the menus and they are handwritten, in Italian only. Maybe not so touristy after all, I think.

All photos of this meal by Jessica and Tris.
Jess orders insalata de calamari which turns out to be a simple calamari salad with arugula, our favorite green of the trip. The calamari is perfectly cooked. The owner also brings us a bread basket and an odd little amuse bouche of little plates with peas, beans and some sort of unidentifiable puree. We each order a pasta; ravioli with ricotta and spinach for David and Tris, Tonnarelli with shrimp in a saffron sauce for jess and Trofe e cicoria e guanciale (chicory and bacon) for me. My pasta is so good I really do not want to share. We also have a 1/2 liter of red and 1/2 liter of white wine and a bottle of water. Lunch for four is 46.5 euros. Boccon Divino, Via del Pavone 28-30, Tel:0668135051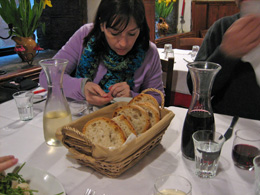 After lunch we go back to the apartment. J and T decide to go out for more shopping and D and I take a bit of a rest. However, I am determined to get to see the inside of the Castel Sant' Angelo and I want to take advantage of the last day of our RomaPasses so David agrees to go out with me. Before we leave J and T return, loaded with little packages. They've found a great little artist's shop, right around the corner from the apartment.
The store is called "I Colori di Dentro", Studio d'arte di Maria Grazia Luffarelli. It's on Via dei Branchi Vecchi, 28/29/30 and the website is www.mgluffarelli.com.
Castel Sant'Angelo
J and T go back out for more shopping and we leave for the Castel Sant' Angelo. We get to the bridge leading to the Castel and lo and behold there is a huge line, extending almost to the end of the bridge, across the river. We are stunned, as we'd never seen such a line when we passed by before. Must be because of Holy Week. We go to the front of the line, just to be certain, but yes, it's the line for tickets. So we walk around for a while and then return finding the line shorter and moving. It still takes us 15 minutes to get tickets which are 4.50 euro each with the RomaPass (normally entrance is 7 euro). We ask for a guide or brochure and we're told to go to the bookshop. We walk, and walk, and walk, following the signs and seemingly walk around the entire perimeter of the Castel. Finally, we get to the bookstore and they are sold out of both paper and audio guides! Back we trek to the entrance and then inside.
The Castel was originally built as Emperor Hadrian's mausoleum and later used as the Pope's residence, a prison, and a fortress. Supposedly, there is an underground passageway connecting it to the Vatican palace. Once inside we walked down and then up a wide spiral ramp going through the center of the building. There are many, many rooms which can be viewed all with beautiful ceilings covered with frescos. Some of the rooms and passageways have walls still covered with original frescos. There's a central courtyard near the top of the building with a small cafe for drinks and it's possible to climb all the way to the top for spectacular views. We were incredibly fortunate to arrive when we did. It had stopped raining temporarily and the sunset combined with the clouds was spectacular, especially behind St. Peter's dome (top photo this page).
Dinner at Osteria ar Galletto
Tonight's dinner is at Osteria ar Galletto on the Piazza Farnese, directly across from the french Embassy. In the summer, they place tables out on the piazza and somehow, in 1993, my mother and I stumbled across this place in search of another restaurant. This is the first place I ever had Penne alla Arribiata. I wish I could say I had it again this time, but I did not. When David and I came back to Italy on our honeymoon in 1995, I brought him back here. Again , we ate outside. This time 13, years later, it is winter and for the first time, I am seeing the inside of the restaurant.
We arrive, I give my name, and there is some confusion. Apparently, the older gentleman who took my reservation did not understand my name when I gave it to him and he was chastised (by his son?) when they finally figured out which table is ours. I do believe he was the owner pictured on the card at left and characterized on the plates as "the rooster".
An aside; in Italy, when you make a reservation, the table belongs to you. Often, you will arrive at the restaurant to find a little card on the table which says "reserved" with your name and reservation time on it. In the US, restaurants may take reservations, but they rarely hold specific tables for specific guests, which is why you often find yourself waiting, even when you have a reservation.
We are seated in the second, smaller dining room. On the way in, David had noticed a wine bottle on display, but it's not on the wine list. He asks, and they have it, Tre Vigne Gattinara, 1999 (35 euro). He's no longer willing to order the vino della casa after a couple of poor showings. The wine is excellent. For antipasti, we get an Antipasto Romanesco (a plate of mixed, marinated vegetables) and four Fiore Fritto (fried, stuffed zucchini flowers). The vegetables are tasty, and they bring a plate of cured black olives along with them. The zucchini flowers are not as good as the ones we had on the first night, these are much heavier.
We order two pastas to share, Fettuccine con Fungi Porcini and Rigatoni con Pajata. When I order the dish, the waiter looks at me like "really?" and in Italian, asks if I am sure while touching his stomach. I say yes. He seems surprised.
A note about "pajata": Rome is known for it's "fifth quarter" food. Whatever was left after the butchers took the prime cuts to sell, the poor would cook up. Of course, some of the best dishes evolved this way, oxtail, osso bucco, sweetbreads, tripe, etc. I'd read about pajata on a lengthy thread about Italian food on the Fodor's board and knew I wanted to try it.
Warning; this is not for the squeamish, but it is really tasty. Rigatoni con Pajata is short tubes of pasta cooked in a tomato sauce with (traditionally veal, but tonight lamb) tripe. The intestines are cut in short sections to mimic the shape of the pasta. In addition, the lamb (or veal) has suckled, and the milk is left in the intestines to cook into a sort of "cheese". Ok, I can feel you cringing now, but let me tell you, it was really, really good. I'd meant to try this dish at the famous Testaccio restaurant, Checchino dal 1887, but we never made it there. So tonight was my last chance. Jessica (my fearless friend when it comes to all things food) and I ate most of it, but both David and Tris were brave and did not break Golden Rule #4. I am so proud. Everyone agreed it was good.
For our main course, we order Abbacchio al Forno (roast veal), Eggplant Parmesan, Straccetti con Ruchetta (beef strips with arugula), and Abbacchio Scottadito (lamb chops). This is not a "foodie" restaurant, but everything is very good. The lamb chops are much "meatier" than others we'd had. The beef with arugula is good. The sentimental value for dining here is high. And of course, I am thrilled to have had the chance to try the pajata. Dinner with all of the above, plus water, 3 coffees, and 3 amaro is 154 euro. Osteria ar Galletto, Vicolo del Gallo, 1, Piazza Farnese. Tel:06 686 0714 Closed Sundays.
After dinner, we walk over to Frigidarium for our nightly gelato and chat with Fabrizio. He shows us the "Roman" way to have gelato; with whipped cream inside the cone first, then the gelato on top. Yum! He also dips J's cone in chocolate and gives us another mini cup with hazelnut gelato swimming in a shot of espresso. Grazie Fabrizio!

Photo by Tris