Local Adversting
Day 1
Hanoi, Vietnam
July 4, 2009
Of course, we wake up extra early, around 4am. And of course breakfast does not start until 6:30 am. Fortunately, the wifi works well, as does the TV, so we are amused for a few hours before being the first ones downstairs in the breakfast room. Breakfast here is basic, no buffet but cooked to order and included in the room rate. I order what will become my daily choice; omlette with cheese, mushrooms and bacon, coffee, "lemon juice" (more like a limeade), toast, and yogurt. They always bring a plate of fresh sliced fruit as well.
The first order of the day is to get some money. Fortunately, there is an ATM right around the corner from the hotel. I get 2 million Vietnamese Dong with my credit union ATM card. This costs me $1 from the credit union, 20,000 VND from the HSBC bank, and gives me the equivalent to US$113.77 in VND. So, $1=17,600 VND The rate only varies by a few VND throughout the whole trip.
On our short walk over to the ATM we get a brief chance to look at the surrounding neighborhood. We are at the edge of the Old Quarter and the Cathedral District. The streets are narrow and crammed with people, cars, bicycles and motorbikes. The "street" the hotel is on is not wide ehough for car traffic, but motorbikes whiz up and down it constantly. Last night, we arrived in the dark and it was relatively quiet. Now it is buzzing with activity; locals on their way to work, women in conical hats selling vegetables from the backs of bicycles, shopkeepers setting up for the day, kids on their way to school and tourists heading out to see the sights. I can't wait to see it all later, but now, we have an appointment to keep.
The only other thing we have planned for today is meeting someone from Hanoi Kids to show us around. They show up in the lobby promptly at 9am, two young women, both University students, named Thin and Van, one in her 3rd year and the other in her 1st yr. They are both sweet, inquisitive and chatty. The point of Hanoi Kids is for the students to get to practice their English by showing tourists around their city. Both of them hoped to work in tourism or hospitality someday. The deal with Hanoi Kids is that their services are free and the tourist pays taxi fare, any entrance fees and buys them lunch.
We really had no plans as to where we wanted to go so they suggested we start with Ho Chi Minh's Mausoleum. They called for taxi which they would do each time we needed one. They said it was safer than hailing one on the street where you run the risk of getting one with a rigged meter. The taxi ride costs 27,000 VND.
The Mausoleum is a very odd experience, starting with our arrival. Everyone must check in any large bags and any food or beverage.
While waiting in line to see if my bag is small enough to keep (it is) I am hip-checked by local woman who barges up and cuts in front of me. She is then roundly chastised by the counter woman who tells her to go to the line for Vietnamese, not tourists, which is clearly marked.
From there, we must walk under a long wood pavilion-covered pathway. It's the equivalent of a couple of blocks, and there are hundreds of people, but it's moving at a walking pace. Along the way, we have to stop and go through airport style security. They give anyone with a camera a red bag and all cameras must be turned in at a kiosk. They put our two cameras in one bag and give me a tag with a number. The girls tell me I have to pick up my camera at a kiosk on the other end after we exit the Mausoleum.
During the entire walk to the entrance of the Mausoleum (a couple more blocks, this place is huge!) I am nervous, thinking my camera is just going to disappear. I know this is ridiculous and they probably deal with thousands of cameras a day, many nicer and more expensive than mine, but I am irrationally attached to my camera and would be devastated if anything were to happen to it (cue long range foreshadowing).
Finally, we get to the entrance and are allowed into the mausoleum. It's dim and cool inside and we are almost shoved though the 3 sided viewing room. Ho Chi Minh is at the center, laying in his glass box, looking for all intents and purposes like he belongs in a wax museum. There are four solders at standing in dress uniforms at rigorous attention at every corner of his platform. There are other soldiers on the walkway moving people along. NO stopping! NO talking! Keep MOVING! We are in and out of the building is less time than it takes to read this paragraph. Outside, as promised, our cameras are waiting. I am relieved.
Afterward, we walk over to see the presidential palace (from outside only) and then HCM's stilt house built for him because he did not want to live in the palace. There is an entrance fee here for us (15,000 VND each), nothing for Vietnamese. The Palace is typical in its yellow/orange French Colonial splendor.
The teak stilt house which HCM lived in until he died while plain, is actually quite lovely in its simplicity, craftsmanship and setting next to a small lake filled with carp. It's worth a look and everything is still as it was (furnishings, telephone, books, etc) when he died.

Clockwise from top left; David and the Hanoi Kids, the line to see HCM's stilt house, stilt house bedroom, stilthouse from outside.
Our next stop, nearby, is the One Pillar Pagoda. First built in 1049, it had to be rebuilt after the French blew it up in 1954. It's a small pagoda balanced on a single pillar sitting in the center of a square pond with a connection to fertility based on the legend of the King who first built the pagoda.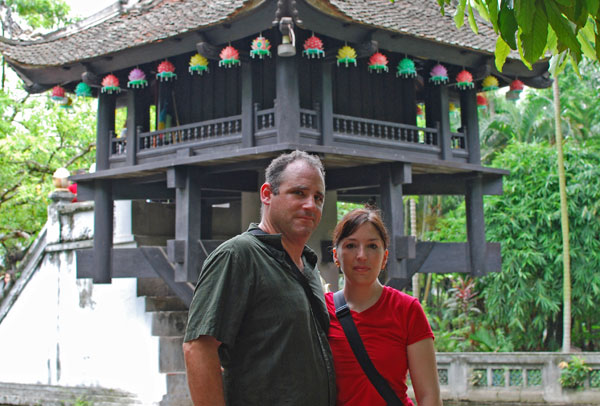 Next door is the Ho Chi Minh Museum. We decide not to go in because it's closing soon and we're ready to move on. From here, we take another taxi (25,000 VND) to the Temple of Literature. The entrance fee is 10,000 VND for us and 5000 VND for them. I also purchase a brochure in English for 3000 VND.
Temple of Literature
Much has been written about the Temple of Literature. Any good guidebook will tell you what you want to know better than I can. Basically it was built as a temple to Confucius in 1070 and then later the site of Vietnam's first university. There are stone tablets set atop large stone turtles which contain all the names of 1304 doctor laureates between 1442 and 1779. Many students come here and touch the turtle's heads or the tablets for luck before their exams. I'll let the photographs tell the rest.

Quon An Ngon Restaurant
Finally, it's time for lunch! They suggest a place, but I can't understand the name. From the description though, it sounds like a restaurant which I'd really wanted to try, and as it turns out, it is. We take another taxi (20,000 VND) to Quon An Ngon (18 Phan Boi Chau St.) for lunch. It's very crowded when we arrive and we are seated inside and upstairs. Quan An Ngon is in a large, villa style house, and has numerous food stations which mimic street stalls. You can order from the stalls or do as we did, order from a large menu.
As we were still pretty jet lagged, we let the girls order for us; Pho ga (Noodle soup with chicken), Pho xao gion (Beef with greens and soft noodles -what they called "dry pho"), Mi xao hai san (seafood noodles) and Nem cua be ( fried spring rolls). All that with 1 beer, 2 sodas and 2 cha drinks was 250,000 VND (about $14.20). The meal was good, but as it turns out, no where near the best one we'd have. Still, it's a good, "safe" introduction to Hanoi. In addition, our time with the Hanoi Kids on the first day was a great idea and really helped ease us into the city. After lunch, we took a taxi back to the hotel and said goodbye.
The Hanoi Kids are required to write about their experiences. It took me a while to find it, but here's what they had to say about us: Hanoi Kids Review of Us
Answer: Once we got home and confirmed the numbers, the current official count is Kristina, 33, David 42 (you'll have to read the review to know the question).
Afternoon
David decides to take a rest, so I get online then go out for a walk alone because I don't feel like just sitting in the room and I can't sleep. I'm always nervous out by myself in a new place, so I stick to streets close by the hotel, afraid of getting lost. I check out the Cathedral and scope out the various food places in the area. I even find a kitty in the doorway of a laundry place to talk to. I was looking for a snack, but not really feeling confident enough yet to just sit down by myself and order. Times like these make me so thankful I am blessed with good travel companions because I don't think I'd like to travel for long by myself.
After David gets up, we walk to the lake and down around the east side in search of Fanny's Ice cream. It's not that hard to find considering it's right across the street from Hoan Kiem Lake. We go in and take a seat. I have a scoop of salted caramel and dark chocolate. David has a crepe with chocolate ice cream. The place is filled with local families and tourists. 81,000 VND ($4.60) and a nice cool break from walking in the heat and humidity.
Pho, it's not just for breakfast any more
For dinner, we walk down the street from our hotel and found "Pho 10″ (10 Ly Quoc Su, at corner of Chan Cam St), a simple street front place. I always thought pho was just for breakfast in Vietnam, but I guess I was wrong. This place, which does about 10 versions of beef pho only, was packed with locals slurping down their dinner.
The kitchen is a glassed in cube staffed by very young men serving up soup and a couple of fried noodle dishes. The servers are all young women in matching t-shirts with the restaurant's name on them. As typical in most storefront restaurants in South East Asia, the owner, a woman of a certain age, sits at a desk near the front door, watching over all.
We both ordered "Pho Tai Bap" (Beef Filet Noodle) and a Bia Hanoi. All excellent. Unlike in the US, this pho was not served with a plate of herbs and vegetable garnish. Instead, it was simply garnished with fresh mint and there were crocks of chili sauce and pickled garlic slices on the table. A perfect, easy first dinner at 80,000 VND total. Highly recommended.
While I won't total our expenses every day, I think it's worth it to note here that even with such a busy day sightseeing, taking 4 taxi rides, lunch for four people, ice cream and dinner for two we spent a grand total of 569,000 VND for the day (not including hotel). That's $32.30!