Day 15
Bangkok Thailand
July 18, 2009
We had another leisurely breakfast at the Peninsula, so leisurely they cleaned up our table when we both went back inside for more pastries.

Honey, fresh from the comb on the Peninsula buffet.
Our plan for today was something I'd wanted to do on previous trips but never had time for; a trip up to Bangkok's little island in the middle of the river, Ko Kret.
Ko Kret is known for its pottery makers as well as a bit of tranquility in an otherwise chaotic city. On weekdays, supposedly it is deserted, but on weekends, locals flood the place and all sorts of festivals and market stalls crowd the area around the boat dock and a number of wats on the island.
The easiest way to get there is to take the Chao Praya express boat up to Nonthanburi. During the week there is a boat which goes all the way to Pak Kret, but not on weekends. On Sundays, there is a tourist boat offered by the Chao Praya company but this is almost an all day trip for 300 baht. We didn't want to be there all day.

Construction workers are the same everywhere.
So we took the boat to Nonthaburi which took about an hour. It was an easy, scenic ride for 13 baht each. Once at the Nonthaburi pier, there are touts which will offer a long tail boat tour to Ko Kret for 100 baht per person for a 3 hour tour. There are also private boat tours for 800 baht for 3 hours.
BTW, there is a public restroom at the pier. When I went to use it (cost, 3 baht) the attendant pointed me to a separate bathroon, one just for tourists I think. It had a western style toilet and oddly enough, a scooter parked inside.

We didn't want to be stuck on a "tour" so we hired at taxi to take us to Wat Sanamwa (which the Pen's concierge wrote out in Thai for us). The taxi took about 20 minutes to get there and cost 100 baht. Once at the wat, we followed the crowd and walked to a small pier behind the wat where there was a cross river ferry boat taking people to Ko Kret.
Ko Kret:

It's very crowded and we find ourselves pushed along with the throng. We're not sure where to go so we just follow the pathway and check out all the vendors selling food and trinkets. It has a bit of a "swap meet" feel until we get farther from the pier. We stop and buy a cup of tempura fried vegetables and flowers which is served with a sweet chili sauce.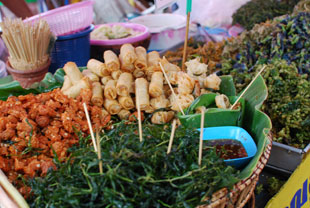 We keep walking, following the signs around the perimeter of the island. I'm sure we could have walked the entire circumference if we'd wanted to, but we didn't because it's very hot and humid out. The farther we walk, the quieter and more residential it gets. We even notice a sign for a small guest house. This would certainly be an interesting place to stay if you were intrepid enough.
After a kilometer or two we turn back and find the area where all the pottery is made with clay dug right there on the island. It's possible to watch the potters throwing pots and of course, there's stuff for sale, though we did not buy anything.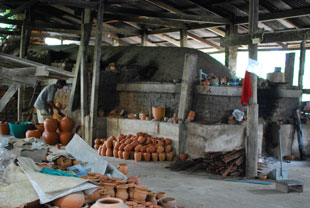 Finally, we're back at the boat dock, considering having something to eat at one of the riverside restaurants/stalls, but neither of us can make up our mind so we settle on a couple of bottles of water and take the boat back across to the Wat.

Outside, we flag down a taxi and after a while we realize the driver has absolutely no idea where he's going. He takes us to a hotel and we show the security guard at the gate our map and point out the pier we want. We finally get there, 140 baht later. The boat ride back is uneventful and takes a little under an hour.

I'm glad we did this on our own rather than part of a package tour. The transportation cost us under 300 baht total and gave us the flexibility we wanted. I don't know if I'd go back for another visit, but I'm glad we finally got the chance to go.
If I were to go again, I'd do it armed with a better map of the area and of Ko Kret itself. I might also go on a weekday when it's very quiet, though the "festival" atmosphere was certainly interesting.

The view at dusk.
Ban Chiang:

For dinner, we take the boat to the Peninsula's dock and walked down the street next to the Shangrila hotel. Most of the stores and restaurants appear empty, though there is some good looking street food along the way.

We walk about 4 blocks down the street next to the Shangrila (Soi Charoen Krung 42) and then it turns into Soi Sri-vieng (or Si Wiang according to Google). We cross a few very busy streets, go under the expressway and arrive at a restaurant called Ban Chiang. I'd been here once, about 10 years ago, with my Mom on her first trip to Bangkok. I remember it as being very good. It is on the street behind the hotel which used to be the Holiday Inn Crowne Plaza. Ban Chiang is in an old Thai house so there are tables outside in a courtyard surrounded by greenery (though hot and humid), and then a series of small rooms inside (a/c inside) and upstairs.
The night before I get on a plane I'm always cautious about what I eat, though I have to temper that with the desire to enjoy my last meal in that location. We order simply, a beef salad and duck curry with rice. Both have excellent flavor and neither is super spicy. Ultimately, this place is very good, safe, and somewhat toned down for tourists. The patrons are a mix of locals and tourists. It's very similar to a good quality Thai restaurant in Los Angeles. This is not a bad thing and is just what we want for our last night. It's not a hard walk from the Peninsula dock either, but there are a couple busy large streets to cross. We are brave but you could certainly take a taxi, though it would probably take longer than walking. Dinner is about 800 baht for the salad and the curry, rice, 2 large beers and a Thai dessert made with noodles. We were able to pay with a credit card rather than taking more money out of an ATM on our last night.
Ban Chiang-14 Soi Sri-vieng, Surasak Road, Silom, Bangkok.