Day 3
Hanoi, Vietnam
July 6, 2009
Today we had no real agenda. Those of you know know me know this is unusual. Not that I plan everything to the minute, but I usually have at least a loose daily itinerary to work with each trip. Not so much on this one, and honestly it feels fine. I know we're going to miss some things, but it's ok. Really. Yes, I have to keep telling myself this and I think I might actually believe it.
It only takes me three days, but I finally find the food market. After yesterday's disappointment, I ask at the hotel's front desk where the food market is. It's called "Hang Be Market " and it's near the top end of Hoan Kiem Lake.
Shopping:
We walk over in that direction from the hotel in the late morning, and finally, it's not raining! Along the way, we stop and check out some of the potential souvenirs; scarves, ties, purses, all in silk. A table runner in a patchwork pattern with Vietnamese silk catches my eye and I negotiate it down to 250,000 VND form the opening price of 450,000 VND. Not so bad, considering it's about 8 feet long.
There are also a number of shops selling custom made rubber and wood stamps. David decides to get one made to stamp all the books in his classroom. After going through a number of sample books, he decides on a circle with the words "ex libris", his name, and a gecko in the center. It's carved out of wood and will be ready in the afternoon for a total of 60,000 VND (about $4).
The shop we select is about 4 feet wide and has an adorable little boy hanging out with his mom, the shop owner. It's called Hai Ha Shop, #22 Hang Manh St.
Hang Be Market
Finally, we make it to the market which is at the corner of Cau Go and Hang Be streets and forms an "L" about 2 blocks long on each side. It is outside, covered with tarps and awnings.
All kinds of food is sold here; meats, vegetables, seafood, flowers, cooked and prepared food. I am impressed with how clean it is. I've seen a lot of "wet" markets and this one is surprisingly tidy. It does not smell (which is a testament to how fresh everything is), there's no slop on the ground, and very few flies even though there is plenty of meat sitting out unrefrigerated. Yet, this is clearly a local's market, not one set up for tourists. In fact, as far as I can tell, we are the only non-locals there, which earns us a few curious glances, nothing more.
We wander through, checking out everything and stop at a woman near the center of the market making banh cuon. These are glutinous rice crepes, steamed on what looks like a piece of cheesecloth stretched over a pot of water. The woman spreads out the mixture, then lifts lets it rest for about 10 seconds and then lifts it up with a pair of chopsticks. The crepe is then filled with a mixture of pork and mushrooms. We decide to sit on the tiny blue stools and partake, right there in the market. We get one order, which is a plate of about 6 crepes served with a dipping sauce. They are wonderful and cost 10,000 VND for the plate.

Memorial House Museum
Very close by the market is the Memorial House Museum (87 Pho Ma May St, admission 5000 VND). This is an old shop house, also called a "tube house". These homes usually had a shop in the front facing the street and the family's living quarters upstairs and in the back. This one, now a museum, has been owned by the same family for 6 generations. There are interior courtyards which let in light and air. The interior is surprisingly cool due to the way air flows through the building and the detail in the woodwork is lovely. Ignore the crafts/souvenirs being sold in every room, while there is no pressure to buy, they are very overpriced. We very much enjoyed our short visit here.

Hoan Kiem Lake and Jade Hill Temple
Our next destination is Hoan Kiem Lake, to see the famous red bridge which seems to be in all photos of Hanoi. The bridge connects the shore to an island on the lake on which sites the Jade Hill Temple. Walking across the bridge is free, but entrance to the temple is 10000 VND, purchased on the shore side (I know, because I had to walk back over the bridge to get the tickets so we could walk onto the island).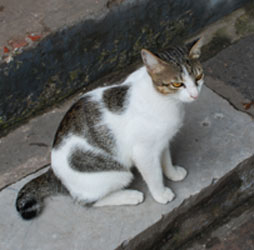 We are giving this temple cat a bit of love when suddenly someone makes the "universal cat call" and she bolts about 25 feet away. She takes a running leap up onto the camera bag of a woman who is clearly a guide. She clearly knows who her friends are.
The lake is known for the legend of the giant turtle who rose from the lake to present a sword to General Le Loi in the 15th century. Today there are rumors the lake is still filled with such creatures and indeed, a 550 lb one was found (captured or already dead, I'm not certain) in 1968 and now sits preserved in a glass case in the temple.
On the way back to the hotel, we stop by a woman we nicknamed the "fry lady" on Ly Quoc Su St . We've been seeing her every day and finally we decide to stop. We should have sat down to eat, but I think because we were too tentative she gives us our stuff to go. We get 4 assorted savory fried things for 16,000 VND (less than $1). A tasty snack!
In the afternoon we do a bit more shopping. All around the area near the cathedral are "boutique" type shops, some with absolutely adorable, unique clothes. I don't buy any unfortunately. However, in a shop (not a boutique, more of a souvenir shop) on Hang Trong St. we find a few things we like (2 ties, 2 scarves, 2 purses, all silk) and possibly, the only sales girl in Hanoi unwilling to bargain. She's firm on her price, and only willing to come down a dollar or two. We get everything for $21. I wish I'd bought more of the scarves because I never see any exactly like them or their quality the rest of the trip.

Left: These construction guys were also about 8 stories up working with no safety equipment. Right: One of the views from our room.
For a mid-afternoon snack, we go to one of the places for which I have a recommendation for Bun Bo. This place is right around the corner from the hotel, and even at 3PM has a fair amount of people in it, slurping down noodles. These were really tasty; dry rice noodles with beef, lettuce, green onions, and topped with fried shallots and peanuts. There's a bit of sauce in the bottom of the bowl too, so it's not completely dry. Bun Bo Nam Bo, 67 Hang Dieu, Hanoi

For a late dinner, we end up at the same Pho place we'd gone to for our first dinner, "Pho 10″ at 10 Ly Quoc Su. It is just as good this time around. I have the pho tai bap again and David has"beef with instan noodle". Yes, no "t" on "instant" and yes, the noodle looks surprisingly like instant ramen, but stir-fried instead of soupy.
Both were good, but the pho here is the clear winner. I also had a "Bia Saigon" and while I am certainly no beer connoisseur, this was absolutely one of the worst beers I've ever had. My first thought was, "beer soda!" It seemed sweet to me and really, that's not a good thing for beer, is it?