Day 6
Hue to Hoi An, Vietnam
July 9, 2009
The driver from Tonkin is waiting for us, promptly at 8:30 in the morning to take us from Hue to Hoi An. Our plan is to drive over the Hai Van Pass, stop in Da Nang for the Cham Museum, have a stop at the Marble Mountain, and then go to our hotel, the Victoria Hoi An.

The train from Hue to Da Nang. We could have been on it.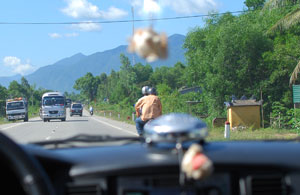 Scenes from the back seat.
The drive is easy, scenic, and interesting and the driver more than willing to stop for photo ops though I end up taking a lot of pictures from the car window. Once we start heading up into the mountains, up to the Hai Van pass it becomes apparent there is a problem with the car. It's struggling to make it uphill at more than 30 mph and David and I exchange more than a few worried glances. Are we going to make it? It's a bit a bit scary at times and we ask the driver if the car is ok. He says, "no, no", but I think he assumes we are asking if there is a problem with the car.
There are a couple of times we think we might be stranded by the side of the road but finally we make it to the top of the pass. We stop there to take in the view and we are besieged by touts.
"You so pretty! Where you from? You have asian hair! You want water? Food? You buy from my shop! "
While the view was great, it was a rare clear day after all, the people who latch onto us as we walk around are a bit relentless and irritating. It is because of this we choose not to walk up the hill and check out the remains of US and French bunkers crumbling on the hillside.
Down the mountain we go and the car is fine going downhill. We can see the bay and Da Nang in the distance. Once in Da Nang, we stop at the Cham Museum. The driver tells us he will meet us at the exit (on the other side of the building) and off we go.

It's a small museum filled with Cham sculptures of Hindu deities from the 7ths to 12 centuries. If you have never been to Angkor, this might be interesting, especially if planning on going to see the ruins of My Son. We were in and out in less than half an hour, and frankly, more than a little bored. Also, it was very hot inside because there was no A/C. When we get outside, the driver is no where to be found. I have a couple of moments of worry/panic when I realize he has all our stuff in his car and I have no idea who I would call, or how, if something had happened and he didn't reappear. After about 10 minutes he returns and we are on our way with no explanation.
Marble Mountain
The driver turns off the highway outside of Da Nang and heads toward one of the marble outcroppings which I later determine is Thuy Son (Water Mountain). We wind through a couple of streets lined with marble statue shops and stop at the bottom of a large steep staircase carved into the side of the mountain. There, we buy our tickets (15,000 VND each) and start walking, up, up, and up.
Soon we're both sweating buckets. About halfway up we reach a temple and buy some water. At this point, we really don't know which way to go, so we pick the cave which appears closest on the map (I had taken a picture of the billboard sized map at the bottom of the stairs). In looking back, it seems we chose the Van Thong Cave, which ends up being the small one with the "secret chamber" instead of Huven Khong which is described as "cathedral-sized."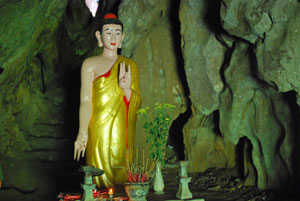 At the back of the cave is a narrow passageway leading to the top of the mountain with 360 degree views. Who knew we'd be spelunking and climbing? I didn't. I wasn't prepared in my sandals, and once we were through the passage and at the top, it was too hot to remove them on the slippery rocks. I was NOT going back through the hole so we picked our way down the "steps". After that experience we were too exhausted, hot, and drenched to see any more. This seems to be a theme doesn't it?
The guidebooks I have don't offer many details on Marble Mountain as to where are the best areas to check out. I wish I'd paid closer attention to reidontravel.com and figured out which was the better cave. In hindsight, I think I would have preferred the larger Huven Khong cave to what we did. I think I would have liked to have had more time to explore the whole place. If I were to do it again, I'd plan on taking it slow and bringing a picnic lunch.
Back in the car, I am praying my dripping shirt will dry before we reach the hotel and that my face will return to its normal, not so pink, color.
Victoria Hoi An
We arrive at the Victoria Hoi An Hotel which is located about 4 kilometers outside of the historical area of Hoi An Town and right on the beach. We have booked this through Tonkin, and when I did so, I selected the best option Tonkin offered, a "Beach Front Bungalow" at a "stay 4 nights, pay for 3" rate. At the time, I looked at the room on the Victoria's website and it seemed nice, but the website does not show much. Tonkin's rate was good, much better than on the hotel's website, and I specifically booked this hotel because if we were going to stay at the beach, we wanted to be on the beach with an unobstructed view.
The check-in is at a sofa in the lobby with all the info about the hotel provided by a desk clerk. He tells us about the hotel's restaurants and spa, about the hotel shuttle into town, and tries to steer us to an expensive tailor in town. Checking in at the same time is a woman from Australia who is traveling with her son. We end up hanging out with her later along with some other nice folks we meet. The schedule for the free shuttle is scant, but still nice to have (only 8am and 11am and nothing in between. Then there's one at 2pm, and 6,7,8 and 9pm). Cabs cost about 56,000 VND ($3) each way.
We're taken to our room by a bell boy and along the way, the hotel looks lovely. There's a nice pool, similar to the one in Siem Reap (where my Mom and I stayed in 2007), and beautifully manicured grounds.
But when we get to our room, I'm confused.
It's not really "beach front". True, there are no other rooms in front of us, but there is an entire row of rooms much closer to the beach.
Our room is set way back, right next to the pool bar, with the deck for the poolside dining right in front of us. In fact, what is in my view, besides the South China Sea, is an older man wearing nothing but gray chest hair and a speedo, enjoying his lunch.
Back to the front desk I go.
"Surely you have another beach front room?" I ask.
"No madam, that is the only one".
As it turns out, there are only 4 in this category in the whole hotel; two rooms on either side of the pool, set a ways back from the beach. The other rooms, closer to the beach with nothing in front but sand, are Junior Suites and Suites. We briefly consider moving to a room on the other side of the pool, away from the restaurant, but it has its own issues.
I speak to the General Manager on the phone (he is not at the hotel) and while apologetic at the "misunderstanding", he does not give us any options other than upgrading our room for a fee.
Ultimately, we decide to upgrade to a Junior Suite for an extra $61 a night. Life is too short and this is our vacation. I know this sounds spoiled, but I would have been unhappy in the other room. This decision is vindicated later when we hear the nightly "entertainment" by the pool; picture the Saturday Night Live skit with two lounge singers and a synthesizer. I know we would have heard every note in that other room.
David, of course, is all for moving to the better room. "Upgrade? Sure!"
We go back to the first room to wait while they get the other room ready. We're hungry and irritable by now and would really like lunch. But we wait, and wait, for almost an hour, for them to tell us the new room is ready. Finally, it is.
The room is at the far end of the hotel (to the right facing the sea) and is substantially larger, with a much better bathroom and a king size bed facing the ocean. What's not to love?
The Junior Suite has high, vaulted ceilings with traditional terra cotta tiles and a couple resident geckos (we love them!). The bed faces a large picture window looking out at the ocean. There's a small sofa, a desk, and a large, flat screened TV. To the right of the bed is a walk-in closet with safe and mini-bar, and at the back, the room with the toilet. To the left of the bed is an open, slate tiled bathroom with a jacuzzi tub, glass fronted walk-in shower, sink, and a door leading out to a private patio with an outdoor shower (which we never end up using because it's just too humid). As a comparison, the other room was smaller by a third, had a smaller bed, and much smaller, darker, bathroom with a standard tub/shower. In the end, we were very happy with our decision to change rooms.
By now it's almost 2pm so we opt for a quick lunch by the pool. I order a glass of chilled rose, David gets a beer and we sit overlooking the beach. Suddenly things are looking better. Unfortunately, it takes over half an hour for the food to come and when it does, it's wrong. David's tagliatelle bolognese arrives at the table as a fettucine alfredo and my cheeseburger is completely raw in the center. The food goes back and we wait some more. The new food, brought out 25 minutes later, is perfect, fortunately. Throughout the rest of our stay, we have a few more meals and snacks by the pool and each time, the food takes an inordinate amount of time to appear.
Around 6pm we take the shuttle into town to walk around. It's about a 20 minute drive and the shuttle lets everyone out at one end of the town, near the market. We want to get the lay of the land and see if we can find the tailor Liz at A Girl in Asia blog has recommended. We wander through the food market and while it's starting to close down for the day, it's also humming with locals making late purchases for their dinner. We get caught in a motorcycle traffic jam inside the market. Someone is making a purchase, from his bike, blocking all traffic, both pedestrian and moto. David is put off by the smells and we never make it back inside the market. I've read though, there is good food to be had inside.
Once outside, David buys another polo shirt for 100,000 VND from a nearby shop. He keeps sweating through his clothes and figures he can wear them for golf at home. One thing to note, at home he wears an XL, here it is an XXL or 2XL.
Hoi An town is charming and touristy at the same time. Yes, it's over run by tailor shops and lantern sellers. But the old buildings are still in place, and the center of town is closed to car traffic. We are looking for a specific tailor, but don't have an address, so it's like looking for a needle in a haystack. Finally, we find our girl, "Queenie", at the Hoi An Cloth shop. I have a clear goal of having a winter coat made and order a brown wool coat, above the knee length, lined in Chinese silk in a gold bamboo pattern. The coat is $40, plus an extra $10 for the special lining. Knowing what you want to have made before you go is a good idea, otherwise it's very tempting to have lots of unplanned clothes made. Prices are reasonable considering that the clothes are custom fit, but if you are a bargain shopper like I am at home, then the prices might not be so tempting. I manage to refrain from ordering anything else. David has two casual, lightweight cotton, short sleeved shirts with embroidered geckos on them made for $16 each.
I think the heat is getting to me. It's early and I'm not really hungry, but don't want to eat another expensive meal in the hotel either. We stop and have an order of fried spring rolls. By the end of the meal, I'm really not feeling great and just want to go back to the hotel. We buy some big bottles of water and a box of ritz crackers in case I get hungry later and head back to the shuttle stop and back to the hotel for an early night.