Day 7
Hoi An, Vietnam
July 10, 2009
Even though we've now been here a week, we're still waking up with the sun and this morning is no exception.
We go out on the beach to catch the sunrise and we're not alone. There are about a dozen people exercising (running, walking, stretching) out on the beach in front of the hotel and literally hundreds of people father down near the public beach area. I'm surprised how many people are out already in the early morning humidity. The hotel's beachcomber is also doing his job, leading a water buffalo up and down the beach, dragging a large wooden comb, scraping grooves into the sand.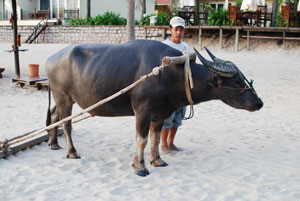 We walk up into the hotel and no one seems to be moving around yet, but we do discover a little mama bird in her nest in one of the potted trees next to the restaurant. She's left there, undisturbed, for the duration of our stay and we check on her every day.
The breakfast buffet here is fairly extensive and everything is freshly prepared. There are giant fruit platters with every kind of tropical fruit imaginable, an omelet station with eggs cooked to order, a pho station with choice of chicken or beef, yogurt, cereals, and wonderful breads. Inside, we run into Lara and Josh, the mother and son we met yesterday at check in. We decide to sit outside to enjoy the view but quickly realize that much past 7:30 in the morning, it becomes way too hot to eat outside. However, while sitting outside discussing if it's worth it for David to try and play golf at a local course (in this heat? Are you kidding me?), we meet Colin, another hotel guest who happens to build golf courses. He's traveling around the world for 3 months with his wife and son. We chat for quite a long time and make plans to possibly meet up later.
We have two orders of business today; get laundry done and go into town so I can try on my new coat. I'd read that on the road leading from town to the beach, about 3 blocks from the hotel, there were plenty of places to have laundry done so after breakfast we take a big bag down there. Indeed, as soon as they see us coming, all the women in the local shops and souvenir stands start calling to us, "Laundry, you can have done here!" We pick one at random, and leave our 5 kilos of dirty clothes to be picked up later in the day. Cost, $1 per kilo. David can't help himself and buys another golf shirt for 90,000 VND.
We take the shuttle into town at 11 am and head over to the Hoi An Cloth Shop. My cost is there. It needs a few adjustments so I can have enough room to wear a sweater underneath, but otherwise, it's just as I wanted. We will return tomorrow to pick it up.

View from the Mango Room riverside dining room.
We walk around town a bit more, and it's so hot, I'm carrying an umbrella for shade, something I've never done before. We stop for lunch at the Mango Rooms, a place I'd seen recommended many times. The chef/owner is from Saigon and has lived all over the world, including the Texas, Latin America, Japan, New Zealand, Europe, and Australia. Their menu and web site states they only use organic fruits and vegetables, no MSG and use filtered water for preparing fresh produce, and bottled water for their ice.
We each order a baguette sandwich; one with beef, the other with egg and chicken. David has a Gin and Tonic and I have a fruit smoothie. Everything is very fresh and good, but lunch is 340,000 VND (about $19.30) which is pretty expensive for here.
When we leave, we walk over to check out the famous "red bridge" but after a while, it's just too hot to walk around and we take a taxi back to the hotel where we spend the rest of the afternoon relaxing in the room, at the pool and on the beach. We do try and go in the water, but when we do we discover there are swarms of translucent jellyfish. It's then that we realize why no one else is in the water.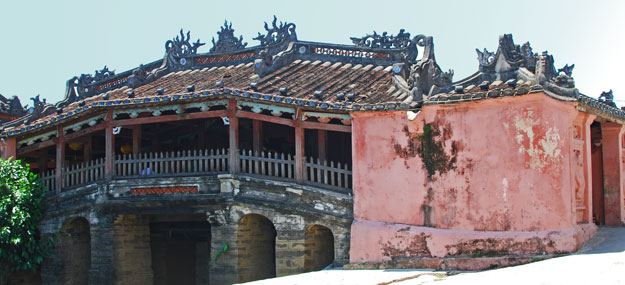 Dinner at Bao Han.
In the early evening we go to pick up our laundry. I wanted to try one of the local restaurants in the shops there, near the beach. The girl at the laundry place recommends a restaurant down the road called "Bao Han" so we head down there. We want to try the local Hoi An noodle specialty called Cau Lao, so we both order a bowl and the local beer, Biere Larue. The noodle dish is pretty, but the noodles themselves are heavy and the dish as a whole a bit flavorless. I'm not impressed, but want to try it some place else to see if it's the dish, or the preparation. Dinner is 80,000 VND. We walk back to the hotel for an early night.