Tips and Resources for Planning a Trip to Paris
Over the years, many people we know have gone to Paris and asked me for advice before their trip. Because we've been to Paris so many times I'm happy to share what I've learned during the planning process.  This is not comprehensive by any means, but more of something to get you started for doing your own planning.
Transportation and Museums:
For transportation and museums, there are several options. You can buy everything a la carte, or you can buy a single pass, or several passes, some which combine both which is why I'm putting these two subjects together. What you want to see, and how you want to do it, and how much you want to spend will determine which you choose.
Transportation:
Paris has a fantastic metro system, and with it you can get almost anywhere. There is also a very comprehensive system of buses. These all use the same metro tickets for which you can buy a single ticket or packet of 10. Take a look at here for current pricing on both. The Paris by Train website is a great resource.
Or, if you will be there for more than 3 or 4 days, you might consider a Navigo Metro pass which is good for 7 days,
Monday
through
Sunday
, specifically. This can be used for unlimited rides, including to and from the airport for under US$30 (as of 2018, check for current pricing). If you plan on using public transportation to get at least one way from the airport this makes it an exceptional deal because the RER train costs about 10 euro alone. Take a look at
here for details on the Navigo pass and current pricing
.
When we last visited, we arrived on a
Sunday
and left the
next Sunday
, so we bought the Navigo passes right at the airport (there is an office right downstairs near where you get the RER into the city) and then paid to get into town on the first day and used the pass for the rest of the week (again, validity starts on Monday), which covered the return to the airport. I like having a pass so I can just hop on or off a bus or train and not wonder if it's worth a ticket for only a couple of stops.
TIP: If you want to buy a card, make sure you bring a 2.5cm x 2cm photo with you (this is like a passport photo).
Taking the train from Charles de Gaulle Airport into the city: Taxis can be expensive, so we like to take public transportation from the airport whenever possible. This page on the Paris By Train website offers step by step instructions on how to take the RER train from the airport to central Paris.
Museums:
These can get expensive, so do your homework on prices, opening days and times, and if they might have a free day when you are there. Most are closed at least one day a week (all different). Obviously, you can just pay the various admission prices (and this may be the best bet if you don't go to that many) but there are also two pass options.
There is a "Museum Pass" which only covers museums and the "Paris Pass" which covers museums, transportation, and some other stuff. I'll say up front I think the Paris Pass is overpriced for what you get. For us, buying separate Museum Passes (2, 4 or 6 days) and a weekly Navigo card made more sense financially and for flexibility.
Paris Pass: The pass only covers transportation for the number of days you buy it for to cover attractions. The price goes up every year, so check current costs. The least expensive pass is 2 days (which means only 2 days of transport coverage too). The other stuff the Paris Pass covers (which isn't included with the regular Museum Pass below) just isn't worth it to me.
Museum Pass:
Check the link above, but at the time we purchased the Museum it made the most sense to get that and a transportation pass over the Paris Pass.
The cost goes down, the more days you buy. We bought the 6-day pass and it paid for itself, seeing on average 2 museums per day, plus we got to skip a lot of lines.
Obviously, you have to figure out what works best for you. Do be aware none of these passes cover the Eiffel Tower, but they do cover the Louvre, the d'Orsay and even Versailles (if you haven't been, yes, you should go). The passes let you skip some of the lines to buy tickets too (though not the security lines). I like the pass because you can just stop in and not feel obligated to stay all day because you can come back on another day if you want.
Sightseeing:
Some typical sights for first-time visitors:
Eiffel Tower– I've never been up in it, even though I've been to Paris more than half a dozen times. I do know that lines can be long, so consider purchasing tickets in advance online. Here's some info on how to skip the lines at the Eiffel Tower.
Notre Dame Cathedral– A must. Entrance to the church is free, but they charge to climb the tower to get up close and personal with the gargoyles (entrance to tower included in the museum pass). The entrance to the crypts below is outside in the square in front and also included in the museum pass.
TIP: there is a public restroom underground in the square in front of the cathedral (to the right as you are facing the church). You must pay to use it. It can get crowded, but it is clean. There is another public toilet in the small park behind the church (the park is worth a visit).
Note: the cathedreal is scheduled to re-open in 2025 after fire restoration.
Louvre Museum– this is huge and overwhelming, but still worth several hours. Read up and plan to hit the highlights; the Mona Lisa, the Egyptian wing including mummified cats, and my favorite sculpture of all time, the Winged Victory of Samothrace. Included with Museum Pass.
d'Orsay Museum- this is lovely and a bit more manageable. It's in an old converted train station and houses a ton of Impressionist art plus a stunning collection of Art deco furniture. If you're hungry, the cafe on the top floor is very nice and looks out over the Seine through one of the building's old clocks. Included with Museum Pass.
The basilica of Montmartre. This is a big white church on top of a hill and worth the trip there via Metro to see the eclectic neighborhood of Montmartre and the stunning view of all of Paris from the front of the church.
Food markets- One of my favorite things to do is wander (and shop!) through some of the food markets that set up daily all over the streets of Paris.
Restaurants: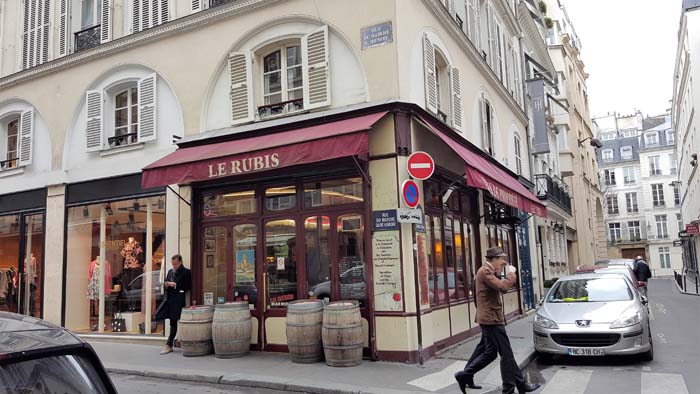 One of a million restaurants in Paris.
For restaurants, I do new research every time we go because it depends on the neighborhood in which we stay and where we plan on doing sightseeing. Plus, some restaurants come and go quickly. I compile a list of places for almost every neighborhood (arrondissement) just in case, and we have a few old favorites we like to revisit. See below for links to sites I use to do my restaurant research.
TIP: Make a loose itinerary of the places you plan on going and then search out a few restaurant options near each site so you aren't wandering hungry when it's time to eat.
Accommodations:
Everyone has their own ideas of where to stay and eat based on their budget. In the many times we've been to Paris in the last 20 years, we've almost always stayed in a vacation rental apartment instead of a hotel. If you are a first-time visitor, you may want to try to stay in the central arrondissements, numbered 1-8. If you've been before, consider branching out to 9, 10 or 11. On our last trip, we stayed near the Place Republique (which is in the 11th) and loved it. We found it very central and easy to get around using the metro, as well as less touristy (meaning more locals lived there than tourists).
For vacation apartment rentals, I like these websites:
www.vrbo.com
www.homeaway.com
www.airbnb.com
When you look at apartments, pay special attention to the reviews and the photos. Make sure you can see all the bedrooms and bathrooms. Also, look at things like deposits (make sure they are not too high), cleaning fees (ditto), and how they want payment (all in advance-risky but not uncommon, via PayPal, credit card, or cash in euro on arrival).
The reason I like apartments over hotels, especially when traveling with friends and or for stays of more than 3 or 4 days, is that you have more space with a living room and a kitchen and it's typically less expensive than multiple hotel rooms. Needless to say, hotels in central Paris can be very expensive. On our last trip we spent about $130 a night on a lovely 1 bedroom apartment. There is no way could we have found a nice hotel room close to that price, especially not with all that space (probably 700 sq ft). We even used the kitchen for breakfasts and one dinner.
Keep in mind, most of the rentals on the sites above are by the owner, as opposed to a rental agency or management company. If you'd rather work with a rental company, one that I've seen recommended a lot is www.parisperfect.com, though I have never used them. Their apartments are beautiful but expensive. The reason some people like going with an agency is that it's a little extra insurance against things going wrong. There's more of a risk when renting from an individual, and while I've never had a problem, it does happen.
If you do want to book a hotel, I like and use www.booking.com (affiliate link) because they often offer special deals for members and usually give the option to pay at the hotel, which I prefer.
Resources:
Below are some of my favorite travel resources, both for Paris specifically and in general. For the apps, go into your phone or tablet's app store.
CityMapper App– this app covers about a dozen cities around the world for public transportation. It will tell you which buses or Metro trains you can take to get where you want to go. This one, combined with Google's transporation mapping options got us where we needed to go. Both will tell you when the next train is and the CityMapper app will even tell you which platform.
Oanda App– Currency converter app; I keep this on my phone all the time
Rick Steeves App– I've never been a huge fan of his books but his app offers walking tours and podcasts of his radio shows, all of which are destination specific. I listen to them in the car before we travel, not so much as following the walking tours while we are there.
David Lebovitz– David is an American cookbook author and blogger who lives in Paris. While most of his blog posts are recipes, he also writes a lot about where to eat and shop in Paris and it's worth searching his site for those posts. He's never steered me wrong. For example, here are his favorite restaurants.
Paris By Mouth– Peruse this site for restaurant ideas by neighborhood or for those open on Sunday. I found a lot of great options here.
The Fork– this is a restaurant reservation service, on line and in an app, like Open Table, only for Europe. Do try to get reservations if there's somewhere you really want to eat. Places are small and you might not get a table otherwise.
Message Boards: Fodor's, Trip Advisor and Chowhound– I've participated in these forums forever and there is a wealth of information there. If you search, you can find the answer to almost any question regarding your destinations, or find someone who can answer it for you. Fodor's and Trip Advisor Boards are travel general, and Chowhound is food specific
Evernote– I use Evernote's web clipper to save websites to a Notebook instead of just bookmarking them on my computer. That way the whole page is there and I can even access it from my phone
Cell Phone– I use T Mobile which offers international access in over 100 countries, including data, for free (included in the cost of your regular package). This means I can step off the plane and not worry about Data roaming fees in almost every place we travel. Nothing to set up in advance either, and in Europe the access is particularly good because they have a strong presence there and good partners. Note; this is not sponsored, I'm just happy with that part of my T Mobile service as someone who loves to travel and loves her phone and social media sharing.
Guidebooks: If you don't have one, I'd really recommend a buying good traditional guidebook as well. The Rick Steves one is very popular. I like Frommer's books as well.