Taking the Virgin First Class Train from Glasgow to London
"Taking the First Class Train" sounds very fancy, doesn't it? It was pretty nice, but it's certainly wasn't the Orient Express of bygone years complete with tuxedoed waiters and opulent compartments. This was more like business class on a small airline. Still, it was a lovely and comfortable way to spend about 4 hours being transported between cities.
WHAT, WHY, HOW:
About two months before our trip I purchased advance tickets on Virgin Trains for our journey between Glasgow and London. At the time, there wasn't a huge difference in cost between the 2nd class advance purchase and 1st class using the "Two Together" fare railcard. You can read more about the various U.K. railcards here.
The purchase online was easy and when I booked the tickets I made sure to select the railcard discount option for Two Together. The web site then showed me the discounted prices. You don't need to have the card when you buy the tickets, only when you board the train. When we arrived in Glasgow, we bought the card at the Queen Street train station near our hotel. The card was good for one year, and gave us 30% off two people traveling together. We had to show the card when our tickets were checked on the train.
Extra bonus: We were able to use the card again less than a year later when we took the overnight sleeper train from London to Inverness.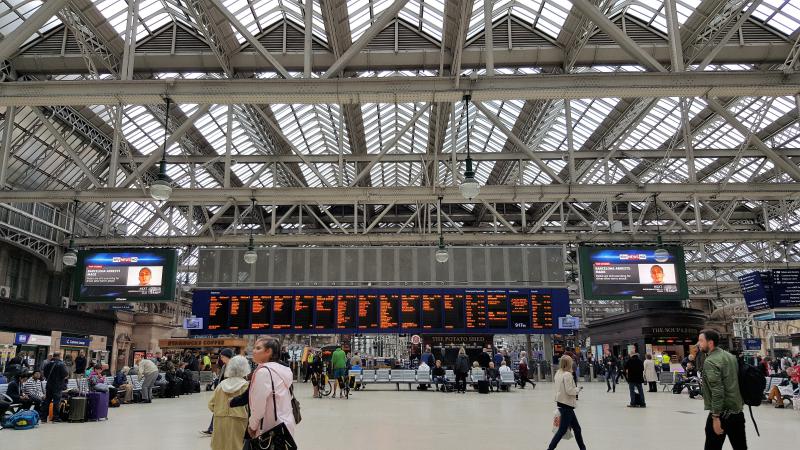 Our travel experience began with a 10 minute walk from our hotel, the Carlton George , to the gorgeous Victorian era Glasgow Central train station. Once inside, we were able to use the Virgin Trains First Class lounge to wait until it was time to board. In the lounge there were newspapers, snacks, drinks and comfortable sofas to sit on.
At the train we found two first class cars and several second class cars, most of which were full. Our reserved seats were in a car that was fully booked, but we were told we could move to another car with open seats and take a table for 4 which we eventually did.
During the four and a half hour trip we were served both breakfast and "brunch". For breakfast, we selected salmon and scrambled eggs, eggs benedict, and coffee. About three hours into the trip we were offered a cup of pea soup or a sausage roll, as well as a choice of wine or beer. This second small meal was much appreciated because we were arriving into London at 2:15pm and would not have had time for lunch. Overall, the quality of the food was impressive and much better than most meals I've ever had on airplanes.
The seats themselves were comfortable and spacious and offered great views of the countryside as we sped along at about 70 mph. We would definitely take this trip again.
Have you ever taken a First Class train trip? Thinking of one?
Leave me a comment at the bottom and make my day!
Pin one of the images below now and save for later!
Any post on this site may contain affiliate links. Thank you for supporting wired2theworld by using our links to shop, book hotels, or organize tours. If you use them, they cost you nothing extra but we may make a small commission which helps us to continue to provide helpful and free content.
Related Posts