A Visit To Trajan's Market in Rome
Even after many trips to Rome there's always something new to see. I must have walked past the ruins of Trajan's Market dozens of times and never really gave it much thought. This time I thought, "how is it possible I've never been in to see a 2000 year old market?"
They were taking down installed pieces from an art show when we arrived so unfortunately there were parts of the museum which were off limits to visitors. Still, we decided to go in and they discounted our tickets by a couple of euro. The entrance to the museum is on Via IV Novembre, but you can see the curved three story building of the market's offices when standing in front of the Forum on via dei Fori Imperiali.
Inside the museum's entrance is the vaulted Main Hall of the old market. Now, in the niches which once held shops, are various statues.
Once through the Hall and out into the open areas, it's easy to imagine this as a bustling market almost 2000 years ago. According to what I've read, certain sections were set up for certain types of businesses, so on one street were all the taverns, and another area might have held all the wool sellers or jewelers.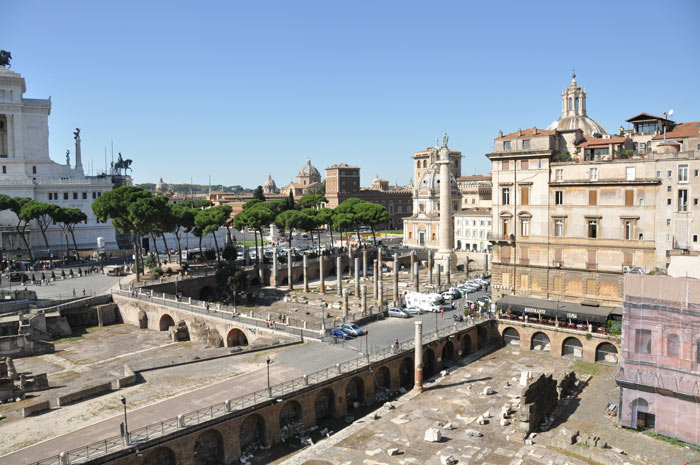 The view of the "Wedding Cake" or Victor Emmanuel Monument from the top of Trajan's Market. In all my trips to Rome I've never been inside this structure. The Capotoline Museum buildings are in the back, to the left.
Finally from the chapter of my (yet unwritten) book called "Places I'd Like To Live Someday" check out these three apartments. They can all be seen from the top sections of Trajan's Market so I can just imagne the views they have from their balconies…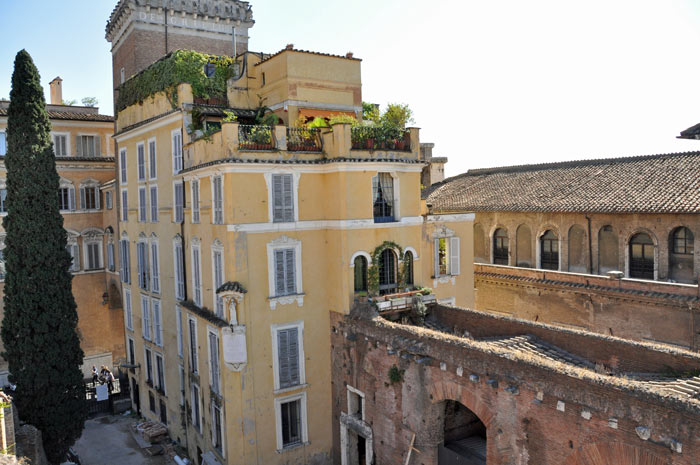 For more on Trajan's Market, check out:
Related Posts