Shanghai Food
We were in Shanghai for four days and we ate very, very well. From crazy cheap and delicious street food to fancy-dancy cocktails and food with a view. It was all good. This city knows how to get its grub on. Below is a selection of just some of what we consumed in our time there.
Dumplings:
As soon as we dropped our bags at our hotel we headed out in search of a late breakfast of soup dumplings (xiaolongbao, also known as XLB), for which Shanghai is famous. For the uninitiated, these little morsels of goodness are steamed dumplings filled with some sort of meat filling, the most common being pork, and a scalding hot flavorful broth. They are served with a ginger vinegar dipping sauce. The trick to eating them is to put them in a soup spoon, puncture the dumpling with your chopstick or teeth and then slurp up the broth. Next, eat the dumpling with some of the sauce. Beware, they are addicting.
Jia Jia Tang Bao (90 Huanghe Lu Road, near People's Square)
I'd read about Jia Jia Tang Bao as the place to get XLB, about a 10 minute walk from where we were staying. They close when they run out, so go early. The location is quite small, about 10 small formica tables and there's usually a line. You'll likely have to share a table (we did, both times).
We got in line and it moved pretty fast. The menu of what is available at that time is on the white board with the red plastic hanging tags behind the cashier. It is all in Chinese and if they can tell you don't speak the language, they'll pull out an English menu. Be prepared to order fast if there's a line behind you.
We ordered both the pork dumplings (12 RMB, under $2 for a dozen!) and the pork and crab dumplings (28 RMB). The vinegar dipping sauce with ginger is 1 RMB extra (get this). Take your receipt and grab a place to sit. Put the receipt on the table so they know where to bring your food. It took about 5 minutes to get food on the table and about another 5 minutes for us to inhale all of it.
I would return in a heartbeat.
Tip: this neighborhood has a lot of great food, both restaurants and on the street. Spend some time exploring it. We ate in the area 4-5 times in 4 days.
Yang's Fried Dumplings (HuangHe Road)
We ate here after trying Jia Jia Tang Bao across the street. Yes, a second breakfast. These dumplings are called shengjianbao and the dough has a little yeast in it so it's a bit thicker and chewier than XLB. They are also fried on a griddle instead of steamed and cost about .50 cents for 4. We ordered two different kinds of dumplings and the beef curry soup. The dumplings were so similar to each other and we could not tell them apart.
Tip: you must pick them up at the window, even if eating inside. The rest of your food is brought to your table. The beef curry soup was only "ok". I'm not sure what I expected but it wasn't something I'd want to order again. The dumplings were good, different from XLB, and if I had to choose one, I'd stick with Jia Jia Tang Bao.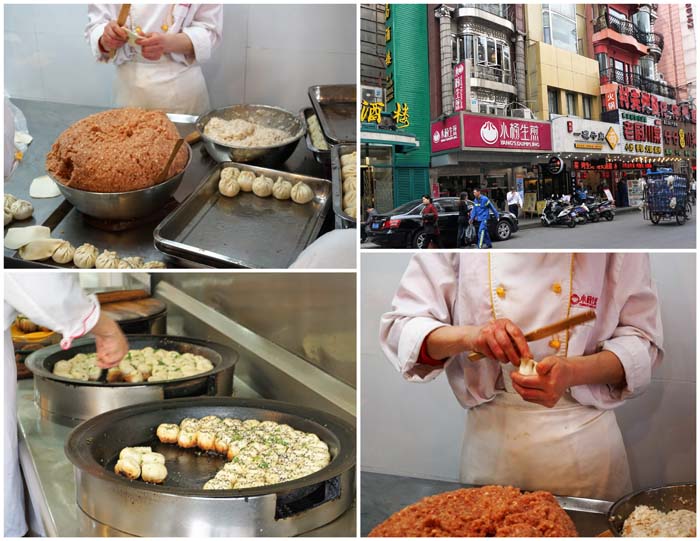 Dumpling soup-
As opposed to soup dumplings, this is a big steaming bowl of broth filled with tiny hand made pork dumplings. Breakfast of champions for about $2. This hole-in-the-wall place is on the same street as the two places above, on the right as you walk from People's Park.
I wish I could remember where the place below was located, but I cannot. This was one of those times we were wandering for dinner and could not find anything with an English menu. At least in this place we could point to photos on the wall. The food wasn't fancy, but it was tasty enough.
Western Style Fine Dining:
Shook Restaurant (23 Nanjing E Rd)
We ended up here on our first night after going in search of a cocktail bar we never did find. Instead, we found this high-end restaurant, which happened to be in the middle of "restaurant week" where they were offering a 3 course dinner menu for about $35 per person. The stars must have been aligned for us, because they also had a table for two available with a magical view over the Bund and across the river. Sold!
We started with a couple of cocktails to toast our luck and then moved on to the food.
We both chose a starter of foie gras tortellini with spiced duck jus, truffle, and real gold flakes. It was a decadent as it sounded, beautifully presented and delicious. For my main course, I had a pan roasted red snapper with ginger and tamarind sauce while my mother had Australian Wagyu flat iron steak with truffled potatoes. For dessert we had coconut lime creme brulee and a chocolate orange bread pudding.
Street Food:
Jianbing
Jianbing is probably one of the most popular breakfast foods in China. It's typically a street food eaten on the go. What is it? Think of a giant savory crepe with an egg cracked onto it, green onions, chopped garlic, chilies if you want, and a smear of hoisin sauce all folded up and ready to eat while walking. For more on jianbing, read this.
Fried Scallion Pancakes
These fried dough pancakes are studded with green onions. They're a tad greasy, but that's what makes them so good. At about 10 cents each, you can't go wrong.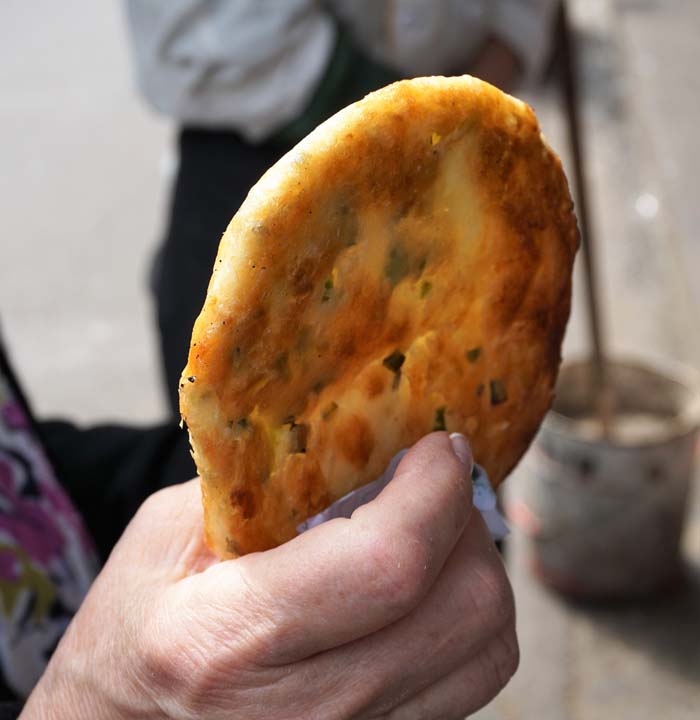 Hot Pot:
This experience was another we just stumbled upon. We had gone out in search of a specific restaurant and when we found it, we discovered that there was no way for us to order any food because we don't speak or read Chinese. There was nothing in English in the restaurant, so we moved on and came across this lively place and decided to give it a try. Fortunately, they had a menu translated into English and even though we didn't really have a clue as to what we were doing, we just decided to wing it and it was fun.
Basically, you get a big pot of boiling water and into it you dip your whatever you've ordered off the menu; in our case meat (lamb), noodles, cabbage, and tofu skin rolls.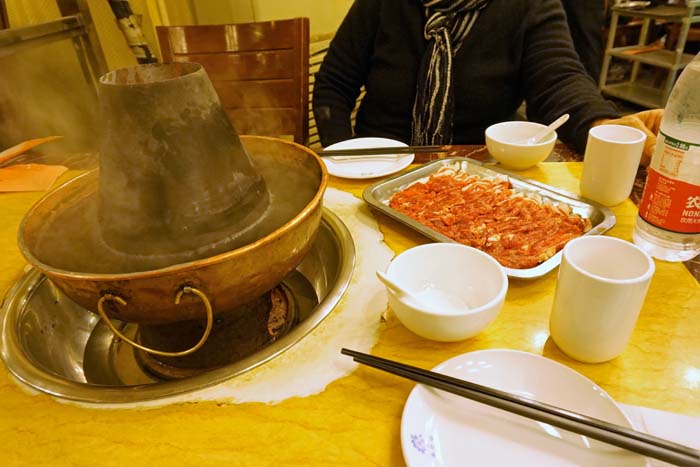 As we were leaving, we walked down to the corner to see guys setting up the hot pots for another restaurant out on the sidewalk. They were filling the centers with burning hot coals and the water for the pots was coming from an outside hose. Yep. I had about 3 seconds of panic and then remembered that it was boiling pretty rapidly. And no worries, neither of us got sick.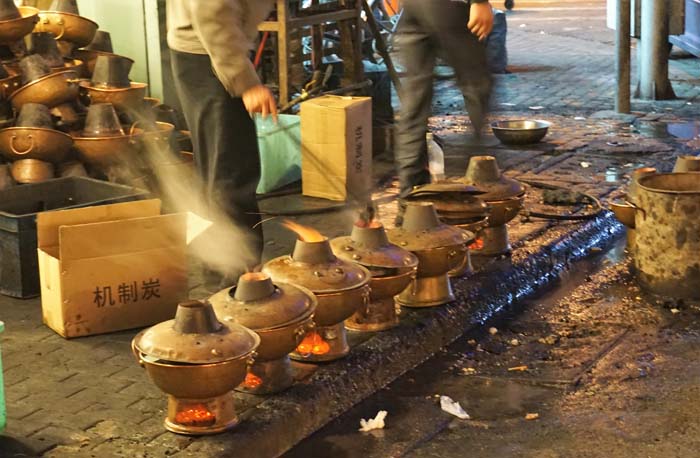 To Go Food:
I think this place was on Yunnan Road South. It's a walk up window with a menu on the side wall with English options. We ordered duck with rice and roast pork with rice. Both were delicious.
Shanghai First Food Hall
Located on 720 Nanjing Rd, about half a block from our hotel. None of my photos were able to capture the scope and size of this multi-story food department store. It's crazy huge with just about any kind of food you can imagine; meats, sausages, sweets, potions and elixirs, vegetables, it's all here. Upstairs, there are several floors of sit down restaurants. And yes, that's an entire pig's face, pressed flat and wrapped in plastic hanging by a red ribbon in the photo below.
More food to come later from our day trip to Quibao and a visit to the French Concession neighborhood of Shanghai.
Related Posts