Qibao Water Town, Near Shanghai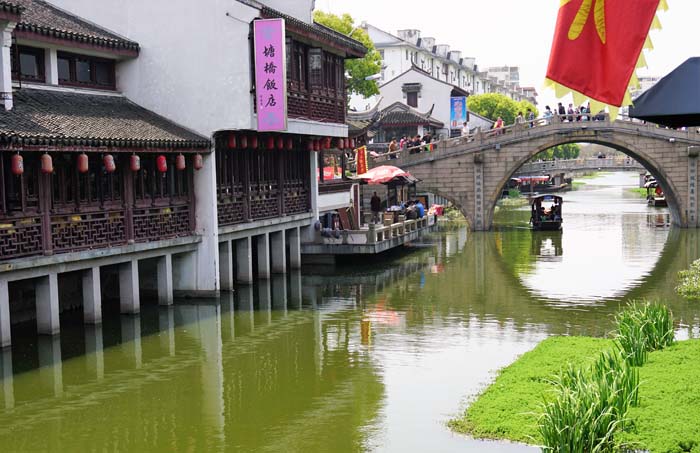 Question: What's the Disney version of a Chinese water town?
Answer: Qibao
We'd wanted to do a day trip from Shanghai, either to one of the Duplitecture towns (towns created to look like Paris, or Venice, or Holland, down to the buildings, canals and faux Eiffel tower) or to one of the nearby "quaint water villages" (a historical village set alongside a river). In the end, we could not figure out how to get to one of the Duplitecture villages on our own and the other water villages seemed to require an overnight or a package tour. So Qibao was the answer, given that it was accessible by talking a Metro line about 45 minutes, almost to its end.
We emerged from the underground metro stop in front of a large department store. It took a while to get our bearings and figure out which direction to head (tip, go south) and then where to go once we got there. "There" turned out to be a giant entrance to the old part of the town, but honestly it wasn't obvious. We walked in toward the center and finally came to an information booth where we picked up a map.
From there we just wandered a bit through crowded alleyways filled with food offerings and cheap souvenirs. There were several temples and a few old buildings requiring admission to enter. It was absolutely packed with Chinese tourists and we saw very few, if any, western faces.
The oldest area was packed with people strolling and shopping among the (mostly) food stalls and shops.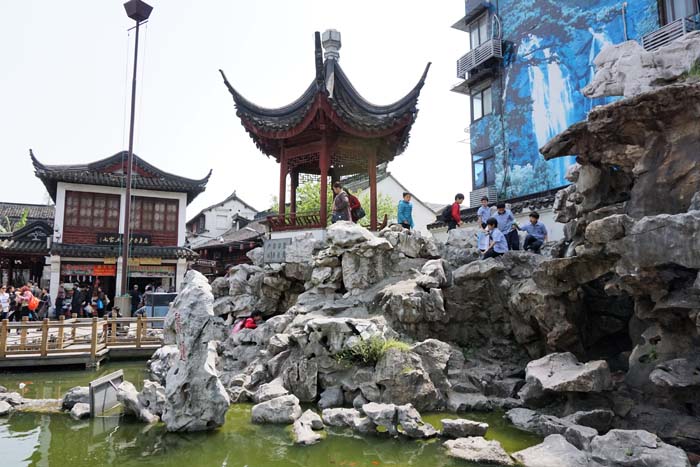 In all, there wasn't a lot of "wow" there, but it was interesting to get out of the city center for a bit. If you do want to go, here are a couple of articles that can tell you more about Qibao and the water towns near Shanghai:
http://travel.cnn.com/shanghai/eat/how-eat-your-way-through-qibao-old-street-299122/
http://www.yilongwei.com/misc/water_towns.htm
Related Posts