October 8, 2010 
Pchum Ben Festival 
This morning we got up at 3am to go out to a pagoda in a rural area about an hour outside Siem Reap to feed our ancestors. Yes, you read that right. 
Today is one of the most important days during the Pchum Ben holiday in which people gather at their pagoda to honor their ancestors with food and worship. This is very similar to All Soul's Day and The Day of the Dead in other cultures. My mother, Lori, and I were taken by one of the foundation's regular van drivers, Den, to his home where the family had been hard at work making packets of food wrapped in banana leaf bundles to bring to the pagoda and they had very nicely made extra for us. 
After stopping at the house to pick up the food and the rest of the family, we drove about a half mile to the village's pagoda and temple. Once there, we went inside the pagoda which was  filled mostly with Buddhist nuns all dressed in white, many of whom had walked for miles to get there. They all came prepared for the duration of the holiday, bringing bedding and some food with them.  
We were the only foreigners there, but everyone was extremely welcoming and it didn't feel awkward at all. Member's of Den's familytook us around to give offerings of  500 riel notes (about 12 cents) to the nuns (most of whom are older widows) and monks who were there, who each gave us a blessing. This money is supposed to help them defray the cost of their long journey and is also a way to pay respect to the dead through them. There were other people doing this with money and gifts of food as well.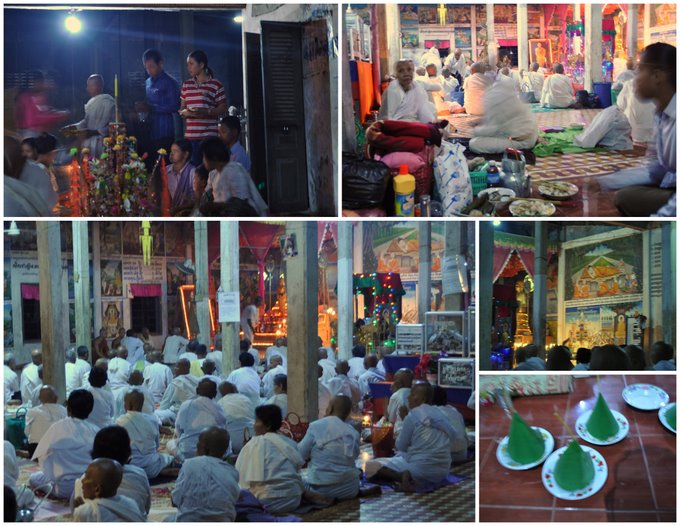 Soon there was movement in the crowd. Den's brother, Denny, took …