Eating Like a Local in Cambodia; Noodles & Morning Glory & Insects, Oh My!
Oct 6th, 2010
This morning we're headed back to Knar School for a return visit. This school has unique medical issues and we're going out with a small group of volunteers to check on some of the children and visit two very special boys at home.
Num Bahn Choc
First, we make a stop at edge of a small town on the way to Knar where there is a row of identical restaurants, all serving the same dish, Num Bahn Choc (aka Cambodian Morning Soup). This is a noodle dish which is as local as it gets; every area has its own version and the ingredients change with the season. Lori has her favorite stall, one in which she's confident of the quality and cleanliness of the ingredients. Num Bahn Choc is a soupy rice noodle dish served with a curry, fermented fish paste (there's no additional meat added) and some fish broth. The big draw are the herbs, vegetables and assorted leaves and greens which are collected fresh from the forest each morning.
The dish comes to the tables as a simple bowl of rice noodles with the fish broth. It's up to you to add your favorite garnishes from the big bouquet on the table and the assorted condiments (chili sauce, pickled garlic, dried chili powder, etc). I added yellow flowers which looked like sweet pea blossoms, an herb which looked a little like cilantro or parsley, some long beans and some chili sauce (see my bowl in the top photo). I also tasted those red leaves, but they didn't seem to have a ton of flavor to me. The cost was $1 per person including a glass of sweet milk iced coffee.
It's hard to explain exactly where this place is located, but while trying to figure it out, I came across a link to one of my favorite blogs, Eating Asia, and I believe they ate Num Bahn Choc at the same location (though maybe not the same stall). They describe it as at a "four-way intersection from which one road leads to Banteay Srei, another to Banteay Samre, still another back to the main Angkor temples, and the last to, well, nowhere in particular" which sounds exactly like where I remember it to be.
Knar School and Home Visit:
On our way to Knar School Lori gave us the briefing on what to expect. The issue is that the students walk through fields and standing water on their way to school.  They get little cuts and scratches which then don't get cleaned after walking through the dirty water. They get infections because they don't have the things we take for granted at home; band-aids and antibiotic ointment, let alone soap and clean water. While still in the van, we each said where we were willing to help, either with the bathing or the medical attention. Both my mom and I offered to help with the cleaning and dressing of wounds.
The Ponheary Ly Foundation is trying to encourage all the students to wash their hands, feet and legs with soap and water every morning when they arrive at school. They brings soap, scrub brushes and basins to the school and teach the children how to wash. Then everyone gets checked for cuts and infections and they need it, they receive basic field medical attention; clean the wound, disinfect it, antibiotic ointment and a bandage. The smallest cuts and insect bites can (and do) turn into large open sores when exposed to the elements. I've never seen small children be so stoic. None of them cried even when being poked and prodded on a wound that would have made me scream.
One thing became quickly apparent; kids are kids everywhere and not only did some point out non-existent "boo-boos" so they could get a little extra attention (which we happily gave), but the latex gloves we wore became objects of fascination and later coveted blow up toys by many. Some students were sent home with extra bandages, bars of soap, and small baggies with a squirt of antibiotic ointment in it. I wished we had those little foil pouches of neosporin like in most first aid kits to be able to pass out.
I'd really like to thank Dr Bronner's Soap and Austin Natural Soap for their direct donations of soap to the Foundation. Between the two, my mother and I brought 50 lbs of soap in 1 oz bars with us in our luggage to Cambodia and some of this soap was passed out today at Knar school.
Our next destination was the home of a boy who was known to have a lot of leg wounds but wasn't there at the school that day. His brother has cerebral palsy and we wanted to check on him as well. This is the little boy they are encouraging the school to accept so that his older brother (who has the bad leg wounds) can also go to school instead of staying home (read more about him on my other Knar school post).
(Photo top left taken on first day of school by Lynn McKee.)
We found their house and checked on everyone, including some other children who live near by. The older boy had his legs cleaned and dressed and we wrapped gauze around the head rest of the younger boy's wheel chair because rubbing against was causing sores on the back of his head. While the family has absolutely nothing, the boy with CP is obviously well loved and cared for by everyone. Look at the face in the photo top left, he's clearly happy, and while he's not verbal, I do hope he gets the opportunity to go to school with his brother (bottom left photo above) because who know what is abilities could be? We left them with soap and medicine and headed back to Siem Reap.
Lunch at Irrawaddi
We headed down the street from the Seven Candles Guesthouse to have lunch at Irrawaddi, a Burmese restaurant about 4 blocks away. I want to say up front, everything we ate here was excellent and we kept trying to find time to go back during the coming week but only succeeded once.
There were four of us at the table and we ordered chicken curry with split peas, rice salad with tea leaf & crispy mixed beans (x2), morning glory salad, and a morning glory soup with tamarind. The morning glory salad was topped with fried shallots and had a little spiciness to it. This was a dish I could eat every day and never tire of it. The rice with tea leaves was a close second for my favorite; it had a mild but fragrant flavor accented by the crispy fried beans and peas in it. They also make wonderful smoothies, juices and lassies (I had a plain yogurt lassi which I love). All items are $1-$4. Service is a bit slow, but everything is made to order and with care, so sit back and relax. Burmese art and paintings of Aung San Suu Kyi line the walls so you know where the ex-pat owner's politics lay.
Irrawaddi, #426 Wat Bo Road, Siem Reap, Cambodia. Note; they also have a restaurant in Phnom Penh with the same name located at #24 Street 334 (between St. 51 and St. 57) I didn't eat there but I would certainly give it a try if I were in Phnom Penh.
Khmer BBQ
There are a number of outdoor BBQ stalls on East River Road behind Wat Damnak. According to Lori, the best one is the one which actually looks like a restaurant with red plastic chairs inside. They have a couple of menus with the items translated into English, some of which are highly amusing ("cow gender with red ant sauce" anyone?).
We went with a large group, the better to try multiple items off the extensive menu. Soon the food started to arrive along with little bowls of various dipping sauces, limes, salt and pepper mix and the ubiquitous fermented fish sauce.
The grilled frogs were meaty and flavorful with a nice char on them. The grilled squid was so perfectly tender (meaning not over-cooked) that I was seriously impressed. The beef arrived pink and chopped up into little pieces and a little chewy like most Cambodian beef (have you seen the skinny cows?). And then there was the roasted corn. Oh. My. God. I would go back just for the corn. It tasted like kettle corn cut right off the cob; sweet, salty, crispy and mixed with a little green onion. Note ot self; I must figure out how to make this.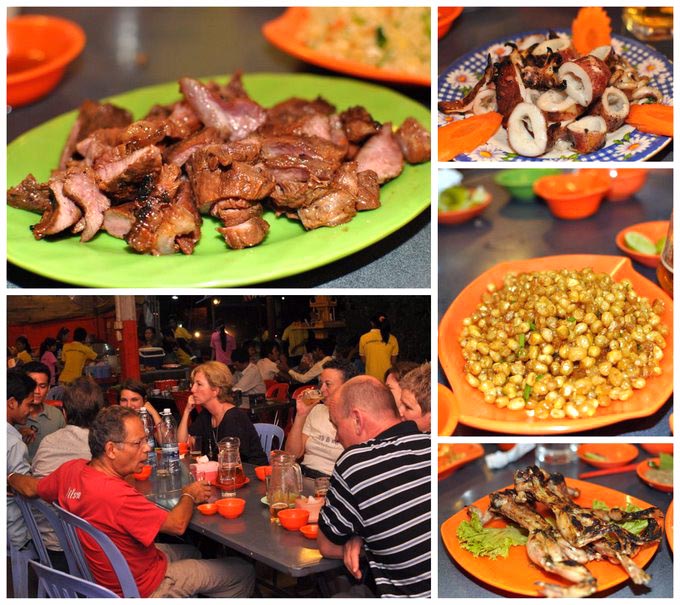 There was a tasty beef salad with a lime and fish sauce dressing, very reminiscent to similar salads I've had in Thailand. I'd heard the red ant sauce was good, but wasn't willing to go the distance with the "cow gender" so we ordered it with grilled duck instead. It really wasn't bad and yes, I ate it willingly, and more than just one piece. The ants taste a little like citrus and there may have been tamarind in the sauce as well.
Near the end of the meal, someone ordered "grilled honeycomb" which turned out to come complete with bee larvae inside of each cell of the honeycomb. I tried it, but this was not something I'd order again. In fact, even the two young Cambodian guys with us wouldn't eat it, saying it was better in their home village than here. The beer was cheap, cold and plentiful, served by the pitcher. There were 12 of us and dinner was $7 per person including drinks and tip.
To see the trip from the beginning go to the main Cambodia 2010 page.
If you want to see more food and travel sites make sure you check out Wanderfood Wednesdays on Wanderlust and Lipstick.
Related Posts