Panama, Day 7- Canopy Tower
July 16
Panama City to Canopy Tower
We wake to more rain and low clouds and we're really hoping the weather gives us a break later in the day. Breakfast was in the club lounge and included a large selection of items from omelettes made to order, to fruit and cereals, to french toast. There's also decent coffee served with a pitcher of steamed milk at the table (loved that!). The service here is excellent.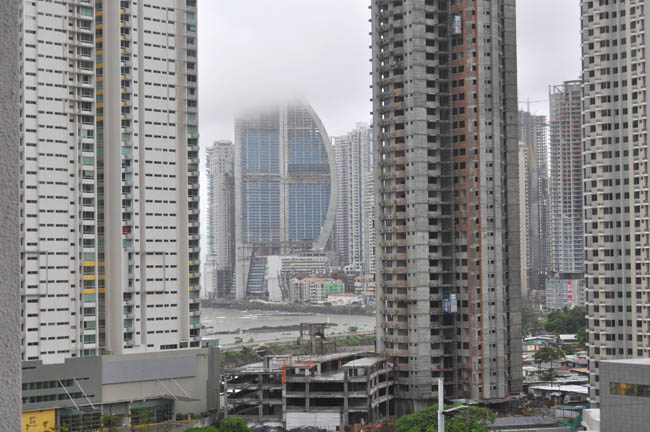 We remembered we still had the phone number of Pedro, the taxi driver we'd used to go to the locks and decided to call him to see what he'd charge to take us out to the Canopy Tower. He didn't know where it was, but once David explained, we settled on $40 round trip and he agreed to take us out there at 10:30am today and pick us up tomorrow at 9am (checkout time at the Canopy Tower) and return us to the Sheraton.
The drive out to the
Canopy Tower
was easy and took about 30 minutes and it finally stopped raining about half way there. When we got to the road leading up to the tower, we were a little confused because the gate was shut. Fortunately, it wasn't locked, so we opened it, drove through and shut it behind us. Note; the Tower's website says if you want to take public transportation out here, there is a bus which will drop you off on the main road leading up to the Lodge. I would not recommend this. It's a long drive uphill and I cannot imagine hiking up it carrying a backpack or dragging luggage.
We arrived at another gate at the compound at the top of the hill. I wish I had a photo of the tower, but you can see it on their website.
Canopy Tower is a converted Air Force tower which now has 5 double rooms with bath, 5 singles (with shared bath) and 2 suites. Prices per night are per person and include 3 meals and one guided bird walk. When I tried to book, I was told there was a 3 night minimum stay, but at almost $300 a night for the two of us (in low season nonetheless) this was out of our budget. Fortunately, they were able to accommodate us for only 1 night, and while I would have liked to have stayed longer this just wasn't possible. Extra tours range from $65-$95 per person per tour. It's possible to go out on your own and see things, but having a guide is highly recommended and beneficial as they are trained to spot wildlife and know every species out there.
The rooms have metal walls and sound travels. The bathrooms are decent sized with a large walk in shower and a window overlooking the canopy. Our twin beds were pushed together. There were no mosquito nets visible as shown on their website. No locks on the doors from the outside, but everyone here has tons of gear and it's pretty isolated. We didn't worry about theft.
The top level is the communal area and dining area. We had arrived shortly before lunch was to be served, buffet style, so we just decided to hang out and check out what everyone else was doing.
There were people on the computers, updating their birdwatching "life lists" (make no mistake, most of the guests here are serious birders), people researching in books and others checking out the local wildlife in the tree tops through a digiscope and binoculars. The star of the moment was a sloth, doing what most sloths do, just "hanging around" literally.
The other guests consisted of a family from Georgia (mom, dad, and teenage son and daughter). All were avid bird watchers, and had come specifically for a week long digiscope tour put on by Leica. I do think the son was more interested in talking to his girlfriend back home via skype than birdwatching.
There were a few other people we never spoke to and there was a family from Colorado; two teachers Jamie and Peggy, here visiting their daughter Laurel who had been working on a sailboat going between Panama and Columbia.  They were also here for just one night and we ended up sharing a table at lunch with them. We enjoyed our conversation and even got the Tower to give us a bottle of wine for the table which we later learned was not common at lunch.
While they enjoyed birdwatching, they weren't in the "serious" group and thus, we were paired with them when it came time to go out on our included bird walk in the afternoon. The others went out either with the guy from Leica with the digiscopes or another guide who took out most of the people wearing the binoculars on a chest harness, boot gators, and carrying 3 foot long lenses.
Our guide, Alex, drove us down the road from the Tower to our starting point on the Old Gamboa Road. The Tower has a couple open backed trucks with bench seats  facing out good for game viewing. Along the way, we stopped to check out a sad faced howler monkey alone in the trees. Our walk on Old Gamboa Road was flat and easy and lasted about 2 hours.
We saw numerous birds including a speckled owl and her white feathered baby. At one point the large owl flew directly over us, from behind, and it was completely silent. There's something in the way owl's feathers and wings are created that allow them to fly silently and aid in the hunt. We also saw turtles, birds of all sorts, sizes, shapes and colors, leaf cutter ants dismantling a tree, and a giant lizard.

On the way back we met up with the larger group of "professional" birders. They were all so silently serious and we joked amongst ourselves about rushing up, and being loud and boisterous ("Hi!! How are you? See any birds?"), just to annoy them. Don't worry, we didn't. Even better was Laurel telling the guy with the 3 foot lens about seeing some very rare bird at the other Canopy Tower Lodge like it was an every day occurrence. You'd think she told him she ate baby eagles for breakfast.  He was just peeved because he'd missed it and then spent the next 3 days looking for it, only never to see it. It was as if she wasn't worthy.
When we returned to the Tower, they were setting up for an al fresco BBQ dinner out on a raised deck set off the parking area. Drinks were already out so we had some cocktails and then dinner with our new friends. The food was basic but tasty (though not particularly memorable, sorry). We stayed up late, drinking wine and talking in a familiar way that only seems to happen when meeting new people while traveling.
Below is a little video of the sloth being funny and scenes from Old Gamboa Road.
If you'd like to see more of our trip to Panama, or read the trip from the beginning, please go to the Panama 2010 main page.
We're still collecting donations for Koh Ker School in Cambodia. To read more about it, please go here to see why it's so important.
Related Posts