San Francisco 2010-Ferry Building Farmer's Market, MOMA, First Crush
Fresh Produce at the Ferry Building Farmer's Market
Saturday, September 4th, 2010
The Ferry Building Farmer's Market is one of my favorite places in San Francisco. Saturday morning we opted for coffee and pastries in the hotel's lobby and then went down to Market street and caught the F tram to the Ferry Plaza stop. By that time the market was in full swing. David couldn't resist buying a maple-bacon beignet from a bakery stand, and I bought some intensely flavorful and juicy organic green and purple pluots.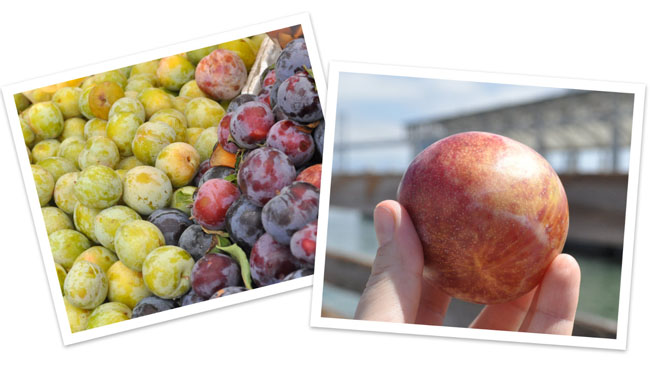 We wandered the market for a while, admiring all the offerings, but the real reason we were here was the Roli Roti truck. Sometimes our experiences with places, food, are not as good as the memories were the first time around. I'm happy to say, the porchetta sandwich from the Roli Roti truck is not one of those disappointments.  The pork is perfectly seasoned and they make sure that each sandwich gets its share of the sliced pork meat and crispy skin. The bread is soft, but doesn't fall apart, and the addition of caramelized onions and peppercress perfectly compliment the roasted pork. It is, hands down, the best pork sandwich I've ever had.
We got in the long line and waited about 20 minutes to get our sandwich. We sat in the sunshine for a while enjoying our food, watching the other market-goers, and watching the seagulls and a duck dive for fish off the pier. After a while we went inside the Ferry Building, but the shoulder to shoulder crowds drove us out in short order. No Boccalone salami for us this time, but I do love the bike they have out front.
Our next destination was the
San Francisco Muesum of Modern Art (MOMA)
and for this we hopped back on the F tram and took it to the 3rd and Market stop. Along the way, there was a commotion at one of the stops. There was a man who looked homeless sitting on the bench just outside the tram's open doors. He had his head down and hood pulled up so we could not see his face, but his fly was open and peeking out for the world to see was…well… something which should normally be kept
inside
one's pants. It was clearly deliberate and among all the
"Oh gross!"
and
"Ewwwww
" exclamations, my lovely husband decided to take a photo. You won't be seeing that photo here, or anywhere for that matter. I'm sure someday it will pop up on my screensaver of random photos and I will be
oh so thrilled
(not).
We finally arrived at our stop, hopped off and walked down 3rd, south of Market, toward MOMA. The entrance to MOMA currently costs $18 per adult for non-members. This comes with a free audio tour if you want it, or access to the free docent led tours. There was a docent tour starting in 10 minutes so we decided to do that.
As it turns out, this tour was called "Calder to Warhol; Introducing the Fisher Collection."  These were all pieces donated by the Fisher family who started the Gap corporation. Avid collectors, they amassed over 1100 important modern art pieces and have donated them all to the SF MOMA under the condition that the museum be expanded to three times its current size to house the entire collection by 2016. The pieces we saw were on temporary loan as a preview of what's to come six years from now.
Our tour, which was supposed to last 45 minutes, lasted an hour an a half and our passionate and well informed docent made it so interesting that the time pretty much flew by. We saw works by Alexander Calder, Chuck Close, Anselm Kiefer, Roy Lichtenstein, Agnes Martin, Gerhard Richter, Cy Twombly, Andy Warhol and more. This specific exhibit is no longer there but gives a good indication of the types of works in the museum and the direction it's going the future.
One of the artists I liked a lot but was unfamiliar with was Gerhard Richter. He had a very eclectic style and didn't confine himself to one genre of painting. All of his pieces were shown in one room so the viewer could appreciate the stylistic differences.
One of the other more interesting pieces was by Sol LeWitt. These were pencil drawings done right on the wall and would be removed after the exhibit, so they were temporary. But it's not the fact that the giant X was done entirely in pencil line drawing which made it interesting, what I found intriguing was that the work was done after the artist's death. The pieces were created to the exact specifications and instructions given by the artist and were meant to be recreated anywhere. This of course led to the discussion of what is art and who is the artist?
Afterward we checked out some of the other exhibits, including one celebrating the 75th Anniversary. We really enjoyed the museum and look forward to going back in 2016 to see all the changes.
After the museum, we stopped in at a bar called Dave's, on Third St, between Market and the museum. We'd passed it on the way to the museum and my Dave wanted a hat with their logo on it (his name and a martini glass). We ordered a couple beers on tap and what turned out to be a giant order of "small" nachos as a snack. This place is an odd cross between local dive bar and tourist stop. You could tell there were some regulars sitting there at the bar mid-day, every day. Dave got his hat and we watched the US Open Tennis semi finals for a while before walking back to the hotel for a break before dinner.
For dinner, we met up with one of David's colleagues who was in town visiting a friend. We wanted something more casual so we chose
First Crush
, a wine bar/restaurant only two blocks from Union Square. First Crush offers more than a dozen wine flights (tastes of three different wines in a theme) and small plates which is a nice way to eat and share everything with the table. Unfortunately, I was so wrapped up in our conversation, I forgot to take pictures of anything but the menu after the first two plates; the cheese and the charcuterie.
The other items we did have were all quite good. Out of their small plates we also had Snake River Farms Pork Belly, Crispy Veal Sweetbreads with Truffled Scrambled Eggs (this was a big hit), and a Green Chard Gratin with Swiss Cheese and Bacon. We also ordered one of the large plates, the Oven Roasted Duck Breast with Caramelized Figs and Duck Confit which was also excellent.
We had a couple desserts too, but since I didn't take pictures of them or the dessert menu, I can't remember what they are. Dinner for two, including champagne, wine flights, and a couple extra glasses was about $120 before tax and tip.
Related Posts