Kyoto's Nishiki Market and Daimaru Depachicka (Food Hall)
Kyoto's Nishiki Market Street
If you're interested in food, when researching Kyoto, it's almost impossible not to come across references to Nishiki street. This market is often referred to as an "alley" but really, it's quite clean and comfortable because it's located one of the covered arcade streets running parallel to Shijo St between Teramachi St and Takakura St. 
While the surrounding streets are also covered arcades (which is great in inclement weather like we had), those streets are bursting with clothing shops, souvenir stands, and restaurants. Nishiki is all about the food; it's filled with market stalls catering to every kind of Japanese specialty imaginable, many of them unique to Kyoto. There are all manner and variety of pickled vegetables, fresh tofu, and yuba (tofu skin), fishmongers and butchers. There are a couple of well-known knife shops here though our budget prohibited any purchase.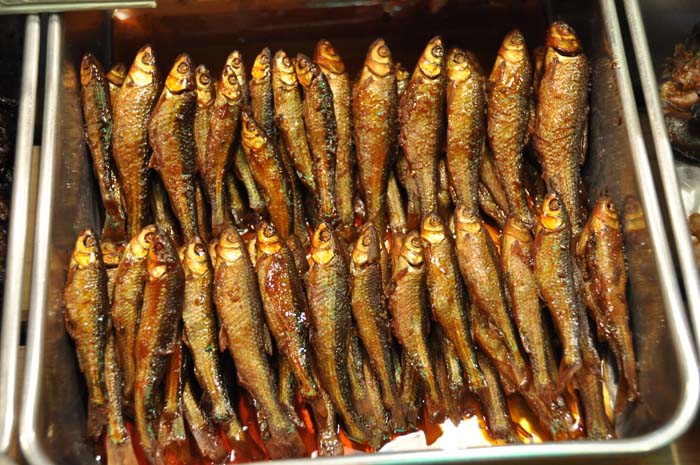 If you visit, go when hungry. I wish I'd realized this, but we're full from the big breakfast at the Westin and thus do not try any of the goodies on offer. There are fried things on sticks (always a good thing if you ask me), sashimi on a stick, samples of dozens of different pickled vegetables, and even sweets to try.
Below is a photo of a machine making bonito flakes like the ones which covered our eggplant dish the night before. I am still kicking myself for not buying a package to bring home.
Daimaru Depachicka (Food Hall)
At the end of Nishiki street we hit Takakura street and turn left, intending to make our way to a subway stop and then to Nijo Castle. Along the way we pass Daimaru Department Store and duck inside to find a restroom. Suddenly we are in another wonderland of food, not exactly unique to Japan, but certainly more common here than in the US; the department store food hall.
In Japan this is called a depachika, and according to the book Food Sake Tokyo
the word comes from "the words for department store (depa-to) and basement (chika)." This is no mall food court, oh no. Imagine a high end grocery store surrounded by food counters with every possible prepared and raw food, packaged in impossibly beautiful presentations.
There is a grocery store section filled with imported foods, wines, cheeses, and snacks of all kinds. There's a butcher where you can buy thinly sliced beef, ready for shabu-shabu. Of course, there's a bakery filled with French pastries, many different kinds of bento boxes, sushi and sashimi, fried items, and beautiful fresh salads. Anything you might want. This is also where we found the $150 melon, perfect, fragrant strawberries, and individually wrapped mangos.
What we do not see here are places to sit and eat the food one buys at the counters. There are a couple of places selling hot food with a few tables, but from what I understand it's expected that all the food is takeaway to be eaten at home. I've also read that, except for picnics in the park, eating on the street and out in public is just not done.
In the end, I am struck dumb with awe and overwhelmed by choice.  There are samples galore and we try gyoza, and flavored types of vinegar and donuts. Sigh, can I just move in here for a few weeks? We wander for almost an hour and in the end, we choose not to buy our lunch here because we don't want to carry it around with us at the castle and we don't know if we'll be able to eat inside the castle grounds. This is a big mistake and I will later have (many) pangs of regret (and hunger).
Kyoto Food Tours:
Related Posts