Istanbul and Selcuk (Ephesus) Turkey; Travel Logistics and Resources
I can't say "I've always wanted to go to Turkey." In fact, in thinking back to our trip around the world in 1998-99, it wasn't even on the radar then and I have no idea why. My interest first peaked back in 2006 and for a while my mother and I were planning a trip there but in the end we chose to go to Central Europe instead.
This year, Turkish Airlines started flying nonstop from Los Angeles and offered some tantalizing deals for a 13 hour flight. I'm a sucker for any flight which will get me to my destination without having to change planes. The timing worked with David's spring break so we jumped in and bought the tickets.
Turkish Airlines
The positives: Great seatback video on demand system. Decent, edible food. Nonstop flights. Turkish Airlines offers free tours of the city, including lunch, if you are doing a stopover in IST for 24 hours or less. We didn't do one of those tours but they look great if you are stuck with a long layover anyway.
The negatives: Horribly uncomfortable seats in Economy class, to the point where we upgraded to their version of Premium Economy (Comfort Class) on the way home. The seat pitch is so bad David could not put the tray table fully down onto his lap when the seat in front was reclined. Forget about reaching anything under the seat in front of you. In addition, it took 2.5 months to get United Mileage credit despite given them our FF numbers and there's a definite lack of English with staff both in LAX and at International airport in Istanbul.
Arrival at Istanbul International was fine though it took quite a while for our luggage to arrive and when it did it came down to another conveyor belt than the one listed for our flight. We bought our visas on arrival for $20 each and walked out to meet our ride. There are plenty of ATM machines in the airport, though we did not use them.
Atlas Jet
We flew
Atlas Jet
to Izmir. I chose them because not only did they have the best price, but they offer a free bus from the airport to the center of Selcuk which the the town connected to the ruins of Ephesus. Since we'd decided not to rent a car, this was a big savings both in time and money. The flight was comfortable and easy, as was the bus ride which took less than an hour.
Tip: when leaving the terminal in Izmir, cross the street and head to the open car park next to the parking structure building across from the terminal. That's where the Atlas busses park and we had a bit of confusion trying to find them at first.
The bus drops you in the center of Selcuk which for us was only 2 blocks from our hotel. For the return airport bus, go to the municipal building across the street and wait there.
Local transportation
To and from the Istanbul airport we utilized private transfers booked by our hotels. It was just easier for us and the cost was about 25 euro each way. There is a subway line which goes to the airport however, and from this we would have had to transfer to a tram or bus to get to our hotel. Since each time we came into the city we didn't know exactly where we were going, it was nice to have the car. Our departures were early both times and again, it was nice not to worry about it.
In town we took the trams frequently which cost 2 TL per ride (about $1.25) and the ferries which cost the same. I've read there are passes you can buy but we didn't.
Tip: Most hotels expect you to pay for the transfers in cash, not as part of your bill on credit card. This happened in both places in Istanbul for us.
Selcuk; while we were there for 2 nights, we din't use any local transportation. We walked around town and when it came time to visit Ephesus, our hotel brought us there and picked us up for free.
Hotels:
Hotel Sari Konak

The
Sari Konak
is located in the old quarter, Sultanhamet. It's on a fairly quiet street a bit out of the fray of the tourist center, yet within easy walking distance of every tourist site in the area. Many people warned us against staying here, saying that the touts would be annoying and that there's a dearth of good food (both somewhat true), but for us, it was a good choice because it allowed us to see everything and return easily to the hotel if needed.
Our room (#202) was a small but sufficient standard room. It had a tiny balcony, but most of it was taken up by the air conditioning unit. After the first night, we noticed that the room next to us was empty and they allowed us to move there for an extra 10 euro a night. This was a much larger and brighter room.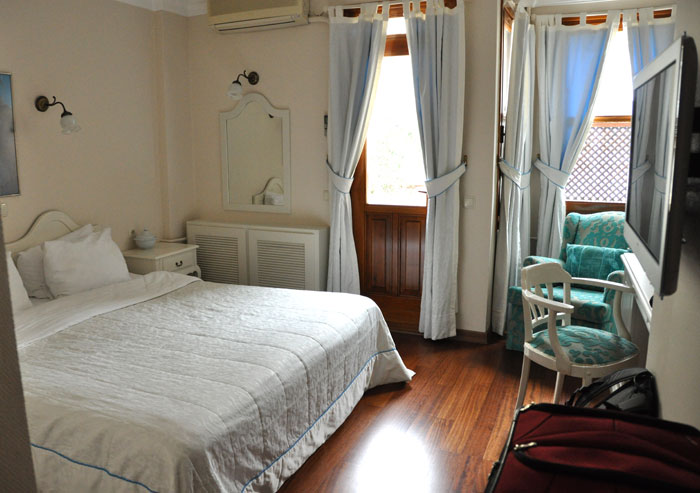 Breakfast was included in the downstairs dining room, but in warmer weather they have it on the roof. The rooftop terrace was lovely, and I wish we could have used it but it was closed when we were there. It has a great view of both the sea and the Blue Mosque. The rooms have free wifi and they have a computer available for guests in the basement.
Residence La Vue;
The Residence La Vue is less than a year old and consists of 7 apartments. We had the one on the 5th floor and it had a fantastic view of the sea and across to the old town, Topkapi Palace and mosques. This place was twice the size of our hotel room at the Sari Konak for about the same price. We stayed here for the second part of our trip and this allowed us to easily see the more modern part of town. The neighborhood is on the edge of Beyloglu and Chihangir, both considered to be "trendy". Indeed, there were many cute boutique shops and restaurants in the area. The downside is that it has as many hills as San Francisco and the walk UP to get back to the apartment was a bit of a challenge. We also had to walk uphill to get to Istikal Caddessi and the area around Taksim square.
Hotel Bella, Selcuk
The Hotel Bella has a fantastic location, friendly helpful staff, really good food and inviting restaurant/lounging area on top floor. On the downside, the rooms are super tiny and loaded with knic-knacs. I could do with a little less fringe on the walls if you know what I mean. But the shower was decent and the location (with view on St John's ruins) was excellent. Wifi is available for free throughout the hotel. Rooms do not have TV.
We had lunch when we arrived in the hotel and it was fantastic (more on the food in a later post). We then took off and did some sightseeing then spent the rest of the day lounging upstairs. We did the same thing the next day and it was very relaxing. We could have visited some other places in the area like Mary's house, or the village of Sirince, but we just needed a break and for that, it was perfect.
Miscellaneous:
Being a non muslim in a muslim world;
Call to Prayer: I absolutley loved hearing this, even when it woke me up before dawn every morning. It was soothing and exotic at the same time. When we got home, I found myself missing it for the first few days.
Clothing: Women should cover their heads when visiting mosques and dress nicely. I can't tell you how many young women I saw dressed not only inappropriately for a mosque, but for just about anywhere but the beach. It was very disrespectful.
I noticed Muslim women in all manners of dress from the typical European (no head covering), to just a headscarf and jeans, to what I called the "raincoat" look, to full coverage with black robes exposing only the eyes. It was fascinating. I saw one woman with this type of full coverage in an Istanbul airport bathroom and she had on the fanciest pair of red high heeled platform shoes I've ever seen. Talk about contrasts. As a woman, I never, ever felt uncomfortable in Istanbul.
Restrooms:
If you are in need of a restroom, and can't find a public one or restaurant, find a mosque. You may have to pay to use it, but they are typically located in the outer courtyard and are very clean. There are also public restrooms (for a fee) at either end of the Galeta Bridge. Many public toilets in Turkey are of the "squat" variety, so be prepared and always have a packet of tissues with you.
Entrance to Men's restroom. See that table with open bag? That's roll your own tobacco, I kid you not.
Internet:
All the places we stayed offered free wifi, and for the most part they all worked without a hitch. There are plenty of restaurants and cafes which offer it as well. I considered renting a MiFi, but at the time of the trip, data charges would have been too expensive.
Travel insurance:
I bought
travel insurance
for both of us through World Nomads. After doing quite a bit of research, I've found that they suit our needs the best. They offer the things we need, I found the rates to be reasonable, and they have a stellar reputation as well. My only criticism would be that I'd perfer to be able to specific the exact dates of the trip rather than pay for 2 weeks when I only need 10 days. On the other hand, I suspect the prices would not be substantially less. For more on World Nomads travel insurance, see
our Travel Insurance page
.
Related Posts