Visiting the Blue Mosque in Istanbul Turkey; Tips and Photos
Determined to make the most of our sightseeing time while staying in Sultanahmet, we made sure to visit the Blue Mosque on one of our days there. Like the Hagia Sofia, the Topkapi Palace, and the Basilica Cistern, the Blue Mosque is on just about every tour and must-see list of the city and there's a good reason why; it's flippin' magnificent.
The dome or the minarets can be seen from just about anywhere in the area. The entrance to the courtyard in front of the mosque is through the Hippodrome, once a giant Roman stadium, now a public square.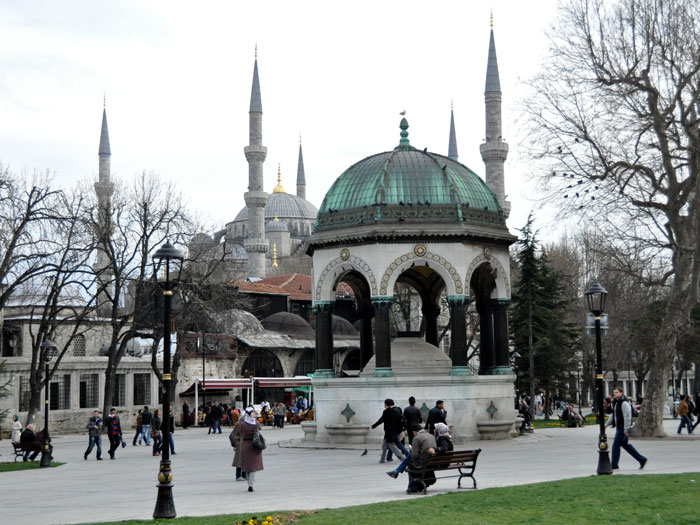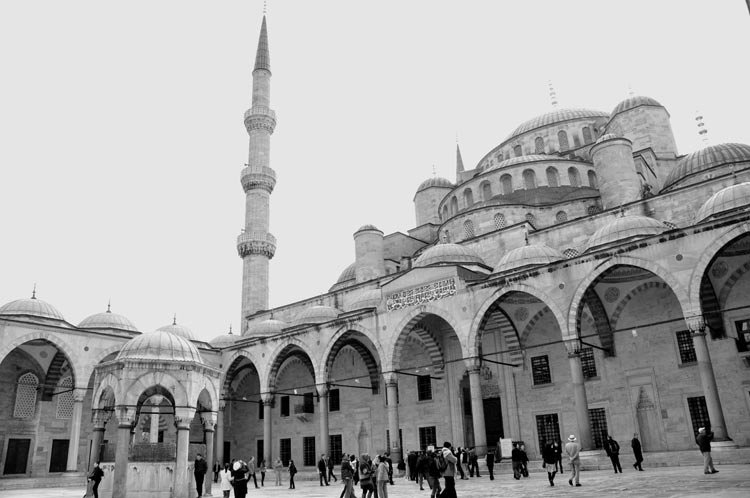 Non Muslim visitors are asked to enter the mosque not through the entrance inside the courtyard, but from one outside and on the right. Women are asked to cover their heads (scarves are provided) and everyone is asked to remove their shoes at the entrance. Plastic bags are provided for your shoes, but they're tiny.
Tip #1: Bring one of those lightweight reusable shopping bags
, the kind which fold up into about a 1″x2″ pouch, to slip your shoes into (wish I'd thought of this before going). The bags they gave us were small and broke easily. We could have used the reusable bags when visiting other mosques as well.
There is a large central area in the front of the mosque reserved for men's prayers and tourists are asked not to walk through there. In the back of the mosque, behind carved wood screens is the women's area. The visitors area is in the back, in front of the women's space, and visitors are allowed to sit on the floor or walk through.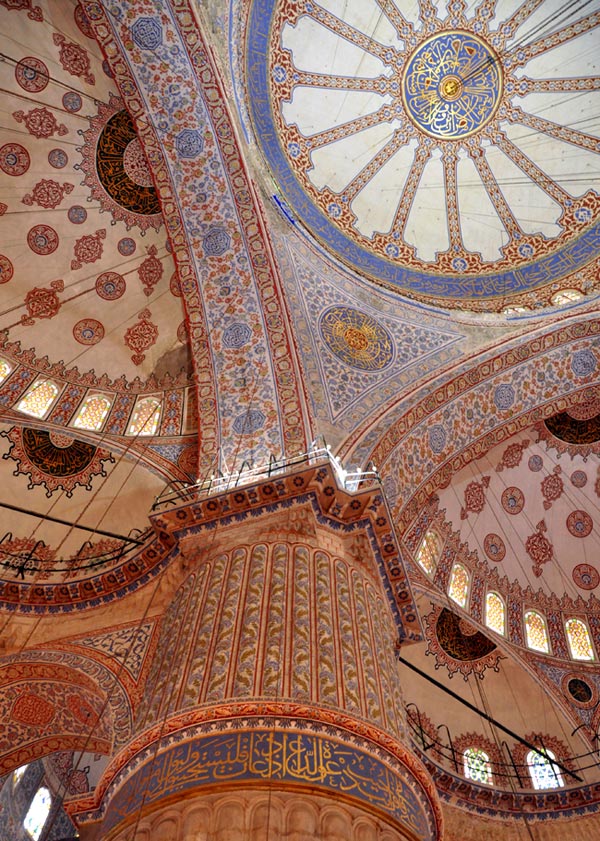 Tip #2: Don't just walk through quickly, especially if you are there during prayer time. Take a seat on the carpet, listen to the Imam chant, and gaze up at the incredibly intricate tile work.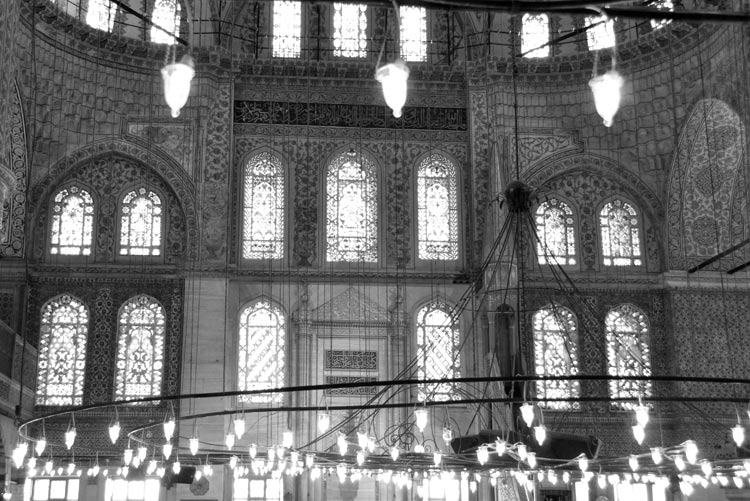 Tip #3: Look for the details like the carved wooden door above or the marble fountain below.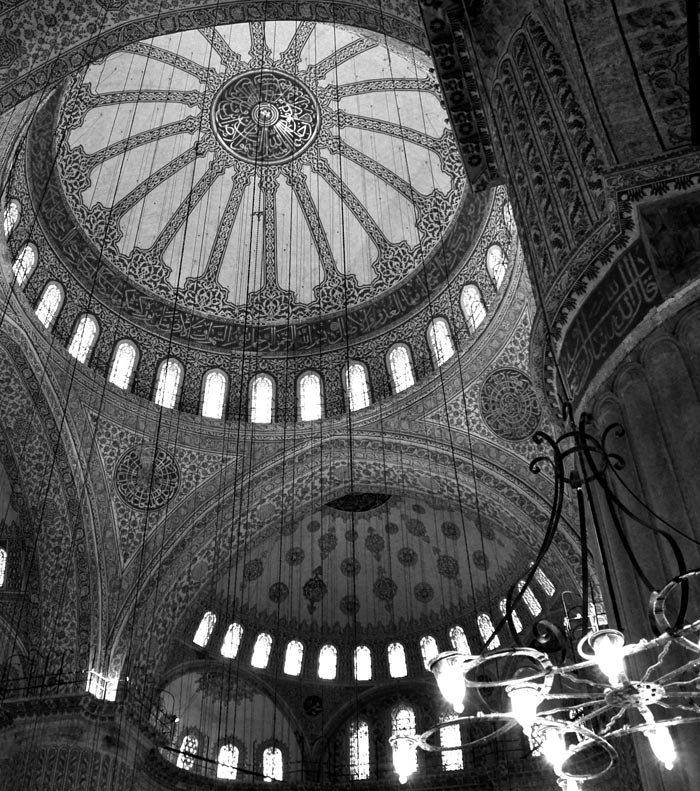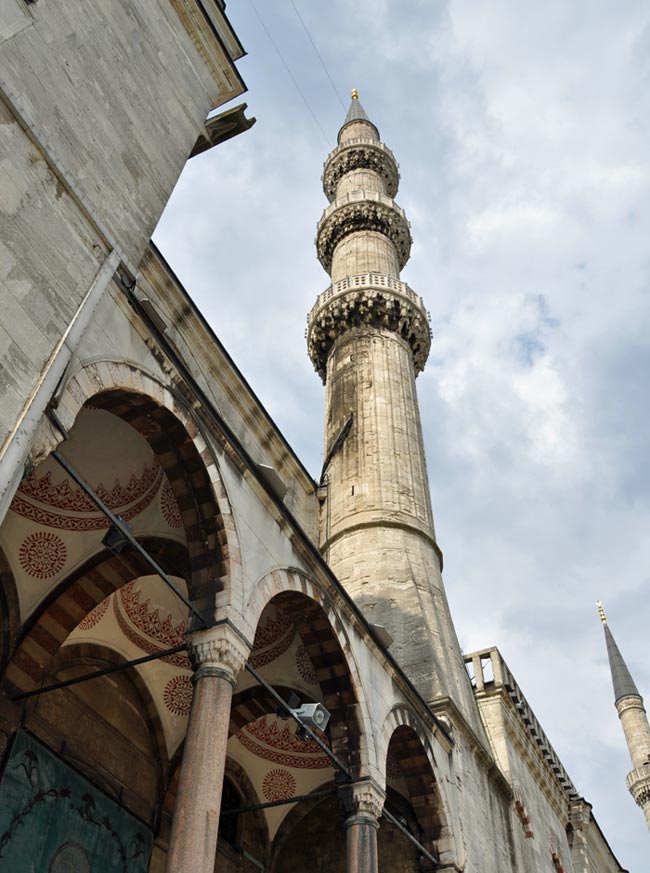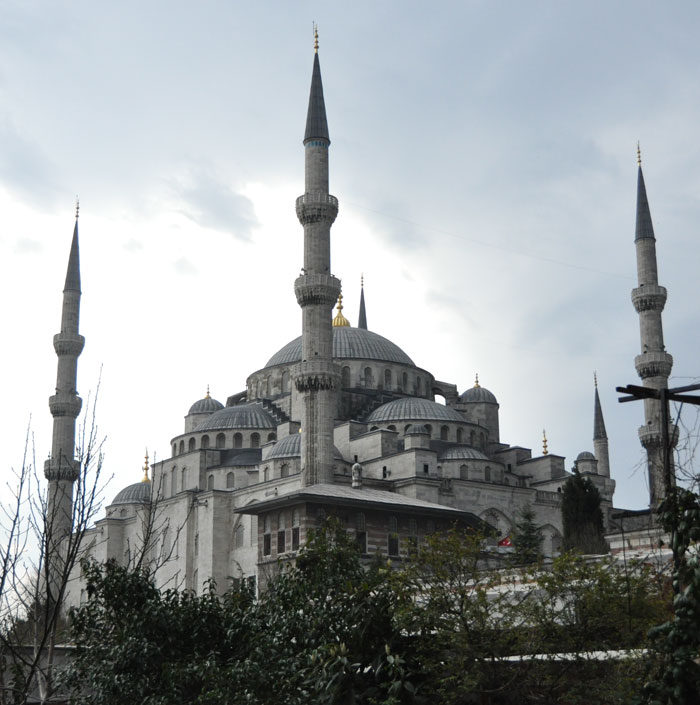 Other tips:
The Blue Mosque is open daily, 8:30am-noon, 1:45pm-4:30pm for tourists.
Please dress modestly (shoulders and knees covered for all, head covered for women) and behave respectfully when visiting as this is an active religious structure.
If you are there during prayer time, keep your voice low and try to avoid photographing people while they are praying.
Istanbul Tours:

Related Posts