Siem Reap's Tchey School Media Center (Ponheary Ly Foundation)
On one of our days in Siem Reap we took a tuk tuk ride out to Tchey school, one of the schools the PLF supports, to check in on the students working on a project in the school's Media Center. The regular classes were not in session that day, but the dedicated students who were working on a photography project were there and showed us their photos. Their task had been to take a series of photos about something important in their daily lives and then whittle it down to the "5 best" photos (see below for some samples of their work). They hope to be able to have a gallery show somewhere in town someday.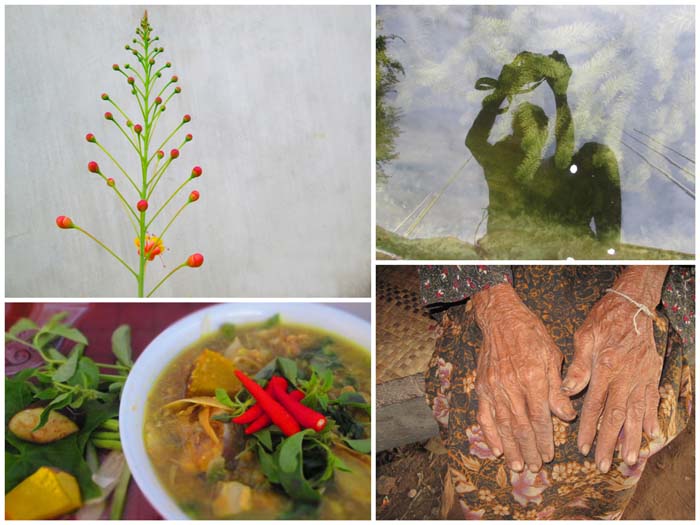 The woman below is Sokha, who was the long time media teacher. She's now teaching only one class, videography, to the older girls and has started taking courses in social work and doing quite a bit of community development, as well as counseling for older students. She also just finished the foundation's first "Girl Rising" curriculum where female students learn about girls in other countries and cultures who have overcome similar issues that they all face (poverty, sexism, lack of access to education, etc.).
There's now a media teacher named Saveth, and you can read about him here.
During our time there we ran into Ponheary who was at the school to measure some of the older students for new uniforms. Reasey Mi, the young woman below being measured, is a Media Class success story in her own right.  She produced the "Sunflowers of Srayang" movie, a documentary about the struggle of girls in rural Cambodia to get an education which was shown at the Angkor Wat International Film Festival. She's about to graduate this year and has a scholarship to go and study journalism at Royal University in Phnom Penh.
This media program has been very successful but is in need of volunteers to keep progressing it forward. If you have any desire to volunteer in Cambodia, and experience in videography or photography (in particular iMovie or Google Applications), please check out the PLF volunteer page.
Related Posts